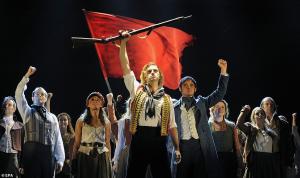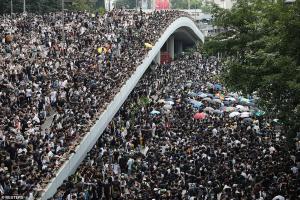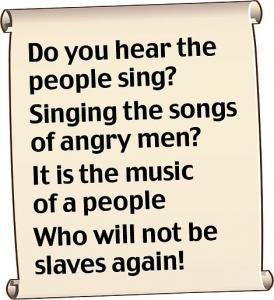 A Broadway song has unexpectedly taken a prominent place in the real life fight for freedom in Hong Kong.  Probably the most famous musical of all time, LES MISERABLES, has provided the struggling city of Hong Kong with a freedom anthem.  This past weekend, two million people took to the streets of the metropolis to march for freedom from an increasingly oppressive mainland China.  Many of the marchers were heard singing "Do You Hear The People Sing", the freedom song and closing finale of musical adaption of Victor Hugo's novel from the nineteenth century. Banned in China but sung by by the protesters anyway, the stirring song gave them hope.  The Daily Mail has the full article and video here:  https://www.dailymail.co.uk/news/article-7160409/How-humbling-Les-Miserables-hit-helped-fight-freedom.html.
The song has always sent chills up my spine, but, now, used in real life, the music's defiant cry against injustice stirs my soul.  In an often nihilistic and despairing world, this story ought to lift your heart.  I've always loved those flash mob videos and now there is a real life one that actually matters.  Here's an excerpt from the article by Herbert Kretzmer, the 93 year old lyricist who wrote the musical over thirty years ago
His words will move your soul and make your spirit strong.
FROM THE DAILY MAIL, by Herbert Kretzmer
On Sunday, two million protesters in Hong Kong were singing those lyrics with passion and gusto. They were calling for freedom from the mighty power, influence and surveillance of mainland China.
It was an extraordinary display of people power in our former colony: one resident in seven took to the streets to gather in front of their parliament, arms crossed above their heads in a symbol of defiance.
As I watched them on television from my home in West London, I felt a lump rise to my throat.
Not only because I admired their bravery in standing up to Communist China, which is trying to force a new extradition bill on Hong Kong that could consign anyone living in the Territory to the sham Chinese 'justice' system. But because the words they were singing were words I had written 33 years ago — and I knew the song in question had been banned in China.
I was 60 when I penned the lyrics to Do You Hear The People Sing. A journalist all my life and sometime songwriter, I was working as TV critic for this newspaper when Cameron Mackintosh, the now legendary theatre impresario, asked me to adapt the libretto of a French musical, Les Miserables. It was based on Victor Hugo's classic 19th-century novel and enjoying a successful run in Paris.
The original French lyrics for the signature song warned of the 'will of the people'. To me, that felt like political grandstanding — so I rewrote it to link the idea of liberty and democracy with the song title itself: Do You Hear The People Sing?…
More than 30 years on, I owe Les Miserables a great deal. I have enjoyed tremendous success and good fortune because of it.
And I am conscious that it has given me something else, too: an extraordinary legacy. Today I can hear people around the world singing the verses I penned because they feel injustice and want change.
Do you hear the people of Hong Kong? They are standing up for their rights.
At 93, I can only be with them in spirit. But my words are on their lips — and I am singing with them.