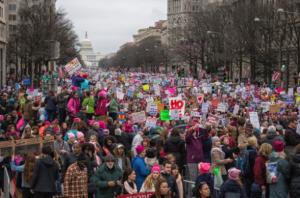 As I glanced through the agenda for this weekend's "Women's Convention" conference sponsored by the Women's March, I spared little hope that there would be any conservative representation there. But I had to look in case I was wrong.
Not so much. It was a clear case of progressive politics wrapped up in a female-centric stereotype that all women think and vote alike. It rallies against conservative causes and beliefs, citing leaders like Betsy DeVos as enemies.
I'm no fan of President Trump, but 4 in 10 women voted for him and the Women's March folks would like to pretend those women are irrelevant, unintelligent ignoramuses who don't know their own good. Or, as Michelle Obama has said, they "voted against their voice" and simply do what they're told by those patriarchal husbands they've got! Not so much, ladies — and by the way, how sexist and offensive can you be? For people fighting against sexism, man they've got a lot to learn.
As Carrie Lukas points out in this op/ed, there is nothing wrong with one side of the aisle getting together to rally and celebrate their causes. But when they pretend it's a conference for "all" women, that's a misrepresentation. It's a flat-out lie. Conservative women are not welcome there — and you'd be scorned were you to introduce yourself as a Trump voter  or say…a woman who works at an independent women's policy organization amid the crowd.
I mean check this selection of panel topics & see how well you think a conservative women would fit in:
Lawyering for Gender Equity in the Age of Trump
Interfaith Reproductive Justice Coalition: How Faith Informs Choice
Confronting White Womanhood
Divest from the War Economy 
Fighting for Survivors of Sexual Assault in the Age of Betsy DeVos
Creating Visionary Politics Today: Universal Family Care
How to Win the War the Trump Administration is Waging on our Health
Planned Parenthood Action Fund Grassroots Organizing 101: Power, Privilege, and Winning with Soul!
The Role of Cities in Protecting Reproductive Freedom
There Is No Gender Justice Without Medicare For All, Sponsored by Our Revolution
Dismantling All Forms of Oppression as One Movement Through Intersectionality 
94 Percent Voted Against Trump: Following Black Women in 2018
 Reaching and Teaching Empathy and Social Justice to Youth in Deep Red Territories
My Humanity is Not Partisan: Lifting Women of Color from City Hall to the White House 
Not All Pussies Are Pink and Not All Women Have Pussies
Sharing Our Abortion Stories for the Revolution
Bullets Have No Color: We are Stronger than the Gun Lobby 
Red State Organizing Solutions that Work: Handmaids, Non-traditional Allies, and Rebranding 
It's basically all-out war against red states and any issues someone who isn't solidly progressive might possibly stand for. They should call this the "Progressive Women's Convention" but with the broad labeling, the media will cover it as standard, women's political issues.
Planned Parenthood is rampant through the agenda, "reproductive issues" being covered at length as the Left desperately realizes that more of Americans are becoming pro-life and science is helping us see the humanity in the unborn like never before. Their panel "Humanity isn't partisan" is rather ironic considering they clearly want all women to vote Democrat. They rally against gun rights, promote an agenda of universal healthcare and as with their post-election March, are vicious towards pro-life perspectives.
As we say at IWF, ALL issues are women's issues — and all women do not think alike. As Lukas writes:
"This is something the media should keep this in mind when covering the so-called "women's" convention: Women aren't a special interest with just one agenda. Women are diverse and have varied opinions on matters of politics and public policies. Pretending otherwise and pigeonholing women isn't progress; it's old fashioned stereotyping."
Progressives love throwing out the word "inclusive" but they are extreme hypocrites when it comes to including those who think differently than them. Diversity of thought isn't allowed at the Women's Convention. Women who don't support progressive politics weren't considered when they threw together this long weekend conference of so-called "women's issues."
They titled the weekend "Reclaiming Our Time." As a conservative woman without a voice in this media-hogging movement, I'd like to get at least one minute please.