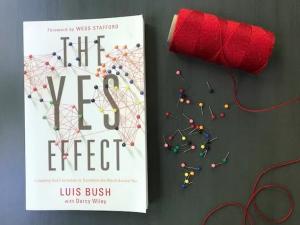 *Scroll down for my Facebook Live interview with author Darcy Wiley!
I was thrilled when I learned my friend Darcy was writing a book. Even more thrilled when she asked if I'd like to be part of the launch team for the book, especially because the content was so great. As soon as it came to my door, I devoured it — well-written, and if you allow it to be, life-changing.
"The Yes Effect" (think the "Butterfly Effect" if you are familiar) is all about God moving in the world through the men and women women who chose to say "yes" to His guidance even if they weren't sure what the path ahead held.
*Get Darcy's personal take on the book here. 
The book covers the origins of the modern missionary movement, primarily the inception of the "10/40 window" concept created by Luis Bush, co-author of the book. The 10/40 window refers to some of the most poverty-stricken places in the world that also have very limited access to the Gospel. Places where Bibles aren't allowed, where people don't like to venture, perhaps where governments are bad. It is a place God put on Bush's heart and started a revolution in mission work around the world.
In the book, they cover the stories of individual missionaries — most of them non-Americans living in either their home countries or near them — and the incredible things they trusted God for in living and working among where they were called. There is fear, faith, LOTS of prayer and miraculous stories of God's faithfulness to their obedience.
While we are not all called to be foreign missionaries, the "yes effect" can be applied to our own lives as well, in the everyday things God call us to do. One thing I learned while reading this book, though, is the importance of being patient and being quiet. We MUST be able to hear God's voice and that's impossible unless we stop, be still and hear what He is trying to say. Stop the busy-ness and everyday things of life for a bit and try to hear Him. It can come in a thought, a dream, through scripture, another person — but you need to be looking for it and make decisions about your "yes's" based on that.
If you are like me, you are inspired and energized by the stories of God working in other people's lives. This book captures several very important ones and will make you ache for the faith of some of these. It also has some incredibly wise, God-given lines in the text, little anecdotes to savor, remember and put into action when the time comes for you to say "yes."
This was truly a God-inspired book, well worth reading and taking to heart if you are looking to take a step forward in your faith journey. Everyone's path is different but one things is for sure, we all have the ability  to say "yes" to God's plan for our lives and we'd be wise to do so because He knows best!