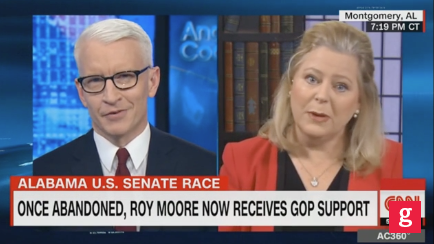 I happened to catch a bit of this interview with Roy Moore spokeswoman Janet Moore on Anderson Cooper last night — and found it…telling, to say the least.
What Roy Moore's spox couldn't answer on @ac360
– whether Moore thinks Obama was born in US
– whether he thinks Muslims should be in Congress
– whether Moore thinks homosexuality should be outlawed
– whether 9/11 happened bc US distanced itself from God https://t.co/prz7kQ5wid

— Manu Raju (@mkraju) December 7, 2017
Don't believe the tweet? See the documented statements here.
So even if he had a pristine record when it comes to women, he's got a lot strikes against him on major issues. Even before all these allegations came out, many were appalled at his radical views. I'm so tired of seeing defenders say all of this is garbage because it comes from the Washington Post or CNN. If his own spokeswoman can't say whether he thinks homosexuality should be illegal or that 9/11 happened because we've "distanced ourselves from God" — that's not "fake news" — it's just news, whether CNN or Breitbart or the guy on the corner reports it.
This guy is not fit to serve without the sexual allegations against him, but the fact that even THAT is not dissuading people — and now the RNC is behind him — makes me ashamed to be a Republican once again. I'm embarrassed by this entire charade. There is no excuse. And it's even worse when it comes to the evangelical support.