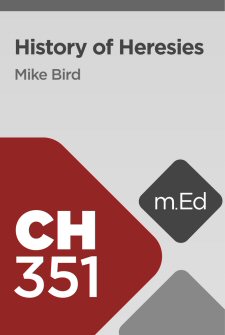 My video lectures on The History of Heresy (from the judaizers to Joel Osteen) is available for pre-order with Faithlife.
Check out the promo here with a sample talk.
In History of Heresies Dr. Michael Bird examines the missteps of theologians from the beginning of the Christian faith. The course begins by placing Christian heresy in the context of ancient Jewish and Graeco-Roman ideas about heresy. After looking at the unity and diversity of the early church, Dr. Bird examines Paul's opponents, as well as false teachings/teachers in later New Testament documents like Jude and Revelation. From there, he explores later heresies like Docetism, Gnosticism, Modalism and Arianism. The course concludes by looking at the Person of Christ and how to spot and avoid heresies today.