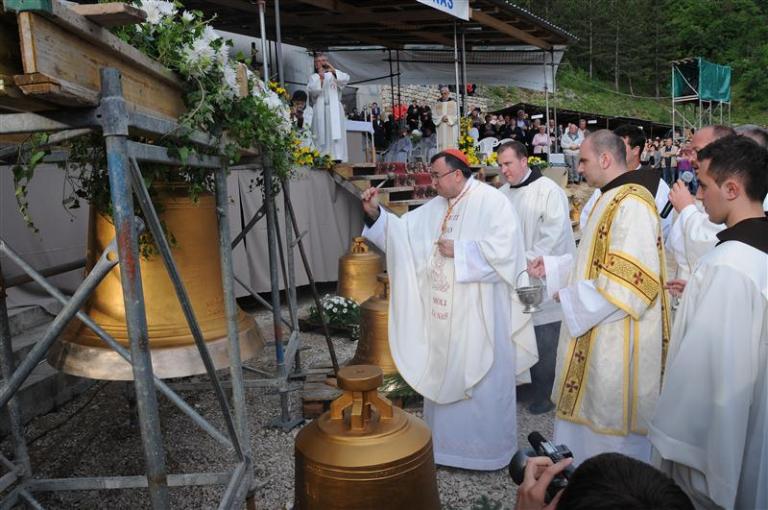 The Cardinal Archbishop of Sarajevo, Vinko Puljić, has taken advantage of an interview with the Italian branch of the Vatican-backed international pastoral aid organization Aid to the Church in Need (ACN) to warn of the advance of radical Islam and of the need that Europe return to its "Christian" roots in order to combat the phenomenon. "Europe must rediscover its roots, its own Christian identity", declared Puljić. "Only in this way will it not have anything to fear from Islamic radicalism".
The prelate spoke with ACN Italy on the occasion of a new fundraising campaign for the St. John Paul II Youth Center in Sarajevo and for the students at the Redemptoris Mater di Vinnitsa in Ukraine. "We cannot do it alone, because we are a small reality", said the cardinal, referring to the efforts of the local Church in Sarajevo to foster a climate of interfaith tolerance and acknowledging that, without its benefactors, "our Church could not survive". Not least of all because an estimated ten thousand Catholics continue to leave the country every year, due to tensions that survived the end of the Bosnian War in 1995 and for which Puljić blames the international community for "not offering the same assistance" to Catholics as it did to Bosnian Muslims and Serbian Christians.
"Our little community continues to diminish year after year, due to the absence of equality both at a political and juridical level", lamented Puljić. "Some do not find work; others have jobs but can no longer live in a country where they do not enjoy the same rights as other citizens. [Ours is] a country where [Catholics] don't have the same rights as other citizens".
"Unfortunately Europe doesn't know Islam well"
But it is not as if money is enough to defend the interests of Catholics and to foster harmony in Bosnia and Herzegovina, or at least according to Cardinal Puljić. Financial backing alone is not enough to combat migration from Arab countries, which for the prelate is synonymous with the rise of "radical Islam".
"There is great investment from Arab countries that build mosques and even whole villages where people who come from their countries can live", denounced the Cardinal of Sarajevo. "With Slavic Muslims we have good relations, but it's difficult to talk with radicalized Islamists coming from the Arab world", he continued. "Above all because they ignore our presence, especially at the political level".
But far from being a local problem, "radical Islam", at least for Cardinal Puljić, is a continent-wide threat. "Unfortunately Europe doesn't know Islam well and doesn't understand what it means to live side by side with Islamic radicalism", he bemoaned. This ignorance of Islam – combined with Europeans' ever-increasing hedonism – has combined, in the prelate's opinion, to make the continent especially vulnerable.
"Today, there is attention only to materialism and not to the spiritual dimension of man", deplored the Archbishop of Sarajevo. "Europe must learn to preserve its Christian roots, otherwise it will continue to fear radicalism".