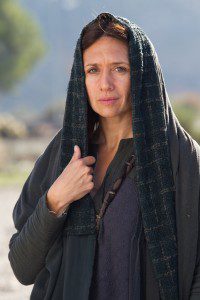 Imagine the consequences of doubting your spouse's intentions. Your spouse repeatedly comes home late from the office or spends more nights out with friends and coworkers than at home. As suspicion creeps in, you have the choice either to believe their stories and honor their integrity or to let doubt take root—a doubt that eventually grows into distrust and bitterness, leading to marital problems.
We're taught that any kind of doubt only leads to bigger issues. And in the church, doubt is not only discouraged but is heavily shamed and identified as a sign of weakness. RISEN, the new Gospel film from Affirm Films and Columbia Pictures, takes a different approach and explores doubt as a necessary part of the human faith journey.
In RISEN, the new movie opening this weekend from Sony Pictures, we follow a Roman military tribune, Clavius, who is tasked with finding the missing body of the reportedly risen Christ Jesus. As Clavius interrogates followers and disciples of Jesus, we watch him struggle to understand this new faith that threatens the upheaval of an entire culture. When he comes face to face with the risen Christ, Clavius is forced to connect his doubts to the reality in front of him. The result leaves his mind spinning and confused.
Where, in the past, doubt has often been a topic attacked in the church as an unholy response to faith, RISEN gives believers room to reflect, realize difficult questions, and muster up courage to ask them. RISEN seeks to end the fear of doubt's power in churches across the world.
Think on this: God is perfect, and ultimately, God can do no wrong. So no matter how big or absurd our doubt is, when we bring it to Him, He's entirely capable of handling it, providing truth in the face of it, and building up stronger faith from it. God is not your spouse who may eventually harbor bitterness toward you for doubting intentions and truth. God will not suddenly become distant because you have chosen to ask difficult questions. Imperfect humans cannot handle doubt from others, but a perfect God can handle anything.
When Clavius gets the opportunity to sit in Jesus' inner circle and realize truth, we see him bare his soul filled with questions and doubts to the disciples and to Jesus. As conversations unfold and honesty is encouraged among the group of believers and their Savior, we are reminded of God's words in James 1:5:"If any of you lacks wisdom, you should ask God, who gives generously to all without finding fault, and it will be given to you."
Initial doubt often begins with a simple question or confusion. When let go and ignored, doubts fester into full-blown Doubt which can lead to abandonment of faith. But when given room to be spoken and discounted, doubt can greatly strengthen faith. We all have questions hiding at the bottom of our souls, keeping silent for fear of man's judgment. So where do you need to acknowledge your doubt and step forward in faith, expecting to receive answers that will serve to strengthen, not shake your faith?
James goes on to say, "But when you ask, you must believe and not doubt, because the one who doubts is like a wave of the sea, blown and tossed by the wind. That person should not expect to receive anything from the Lord. Such a person is double-minded and unstable in all they do" (1:6-8).
If you never speak your doubts, they will grow and toss you about like careless wave. If you never take them before God, then you never get the chance to see them disapproved and witness anew the strength and power of God.
Perhaps we can all learn a little something from Clavius of RISEN.
Angelina Burkholder is a writer and content marketer based in Nashville, Tennessee who believes in the power and influence of creative storytelling to effect change and impact communities.