by Roland Wrinkle
Well-Worn Sandals
Apparently, we have a peripatetic savior…and not a cross-legged guru on a hill. In the three short years narrated by the gospels, Jesus of Nazareth walked well over 3,000 miles. He was a man on the move. And he was a man of imminency and intention. Remember: "Jesus resolutely set out for Jerusalem" (Luke 9.51) and Mark's notorious use of "immediately" (euthys or eutheos) (Mark uses this word more times, incidentally, than any other gospel account from his more long-winded brethren.)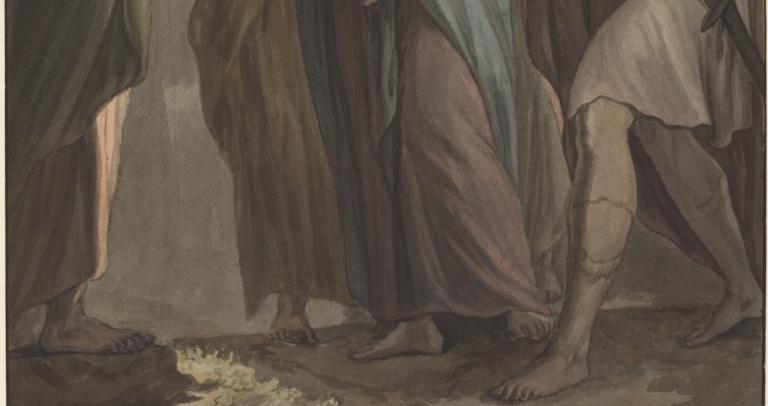 This constantly moving messiah was constantly moving because he wanted folks to follow him. He wanted to take the "ordinary" ikons, made by and in the image of, his Father, and turn them into a community, a family, of fervent and dedicated apostles, disciples, students and agape-ites, thereby launching the greatest social movement in human history.
And he wanted to do it by traipsing thousands of miles across harsh desserts, up and down daunting mountains, across raging waters, to and from big cities and isolated hamlets, so he could reach both enthralled masses and encounter furious mobs. He did it all so that people would follow him. And he did it all in sandals.
No wonder he was won over by the sinful woman who poignantly washed and perfumed his feet. Yet, notice what Jesus said to her immediately after her heartfelt supplication: "Because you believed, you are saved from your sins" (Luke 7.50). So, it sure seems to me that two things are going on here: Believing and Following. It also seems to me that much of popular Christianity has squashed the latter by over-promoting the former.
Believe? Yes.
In verse after verse, the red letters cry out for the followers of Jesus to believe him. To believe in him. To believe in the nearness and majesty of the Kingdom of God. To believe he is the Son of God, the long-awaited restorative King of Israel and Creator of the Universe, the enigmatic Son of Man, the very image of the living God, the Savior of all of fallen Creation.
The writers of the canonized letters go on to expand upon the centrality of belief. "[The gospel] is the power of God that brings salvation to everyone who believes" (Romans 1.16). After Jesus "utter[ed] things hidden since the creation of the world" (Matthew 13.34), the fact that there is no such animal as a nonbelieving Christian, is no longer hidden.
We Need to Believe, But We Also Need to Follow.
Having said all of that, it seems to me that the whole of the New Testament advocates a perspective where belief is not an end (teleos) in and of itself – we tend to overread passages such as Romans 3.22, "This righteousness is given through faith in Jesus Christ to all who believe," in a simplistic, tradition-supporting way – but stands as the necessary precondition to what Jesus is really after: having us follow him.
Jesus told Peter and Andrew, "Come, follow me, and I will send you out to fish for people" (Matthew 4.19). In other words, he told them to gather more followers! He told a second set of recruited siblings the same thing. He told an unnamed disciple (rather shockingly), "Follow me, and let the dead bury their own dead." (Luke 9.59-60). He told Matthew to abandon his tax collector booth and "Follow me." (Matthew 9.9). He told the folks at Caesarea Philippi, "Whoever wants to be my disciple must deny themselves and take up their cross and follow me" (Matthew 16.24). He told the Rich Young Ruler, "If you want to be perfect, go, sell your possessions and give to the poor, and you will have treasure in heaven. Then come, follow me." And in the very next verse, "Truly I tell you, at the renewal of all things, when the Son of Man sits on his glorious throne, you who have followed me will also sit on twelve thrones, judging the twelve tribes of Israel" (Matthew 19.28).
All of these verses have precisely nothing to do with entering a celestial, ethereal, disembodied heaven upon bodily death, let alone the idea that the mere professed, intellectual assent to a particularized set of orthodox beliefs gains the confessor entry.
Yes, Jesus was big on belief, but he was even bigger on exhorting people to get in line and follow him. If you take all four gospels together, either Jesus says, "follow me" or the author says, "they followed him," nearly a hundred times. He was too busy trying to tell the religious elite of his day that they needed to stop holding up the Hebrew Scriptures as a rule book and, instead, to keep in mind God's reasons for the stories, which are justice, grace and mercy. It was more important to get your kid (or ox) out of a pit on Saturday than to keep the Sabbath (Luke 14.5).
Four centuries before Christ, God told Jeremiah to tell everyone else that, when He came back to restore all of creation and bring heaven and earth together, "I will put my law in their minds and write it on their hearts." (Jer. 31.33). In other words, godly actions would follow from active habituation, not imposed legalism. The bible is an irresistible call to action.
When God called Abraham, he didn't say, "You need to ascribe to these commandments, right principles and correct beliefs." Instead, God told Abraham, "Go from your country, your people and your father's household to the land I will show you." Did Abraham respond by saying the "Sinner's Prayer"? By answering an alter call or professing an approved system of belief? By reciting the current version of the latest creed that came out of the latest gathering of "church experts and leaders"? No. "So Abram went, as the Lord had told him." (Genesis 12.4). He didn't say a word. He got his feet moving.
When it came time for Jesus to gather up his gang of apostles and disciples, he didn't command them to discern and discover all of the scriptural rules and laws to govern their conduct and learn what they should believe. No. In Matthew 4.22, Jesus came upon James and John, and "called them, and immediately they left the boat and their father and followed him." So should we.
The Apostles' Creed, found in the front of our hymnals at church, and which we occasionally recite, reads, "I believe…" in nineteen postulates. The Nicene Creed (also in our hymnals) has us confessing 27 "beliefs." Not once does either menu of prescribed axioms say, "I believe…that faith is all about following Jesus." It is stunning to me (I fully understand and appreciate their original purpose) that neither has anything to say about the three-year ministry of Jesus on earth other than he was born and he was executed. Our confessional creeds are not wrong, they are just sadly incomplete.
Of course, beliefs are important. They're critical. Why would you get up and follow anybody or anything unless you believed that she, he or it was worth following? But once "you declare with your mouth, 'Jesus is Lord,' and believe in your heart that God raised him from the dead," (Romans 10.8), spring into action, look over the hill, spot the man with the worn-out robe and crusty sandals walking on a road to somewhere and follow him. Don't ask where, just follow him.
First Believe and Understand God's Future for His People … Then Get to Work Now!
Paul capped off the longest, sustained exposition of bodily resurrection in all of scripture (1 Corinthians 15) with this "therefore" directive: "Always give yourselves fully to the work of the Lord, because you know that your labor in the Lord is not in vain. Now about the collection for the Lord's people [i.e., the poor in Jerusalem] …." (1 Corinthians 15.58). Whoever wrote the Book of Hebrews upbraided his Jewish Christian audience for not converting their new-found "beliefs" (repentance, faith in God, baptism, resurrection of the dead, and judgment) into "actions." And he used an agricultural metaphor echoing the parable of The Sower to emphasize that it is what a believer "produces" that counts in the now-and-yet-to-be Kingdom of God.
When an "expert in the law… who wanted to justify himself" and burnish his orthodox credentials tried to test the correctness of Jesus' beliefs, Jesus responded, not with canon, confession or catechism, but with a story about a mugged stranger who was abandoned by two religious bigwigs. (See Luke 10.25-37). Internecine wars over doctrine and dogma still rage, while the injured and desperate are left by the side of the Jericho Road.
Where is He Leading Us?
Right smack dab in and through the gates of the Kingdom of God. The Kingdom that he preached about more than any other topic. The Kingdom that is now ("The kingdom of God has come near to you, Luke 10.9; "The time is fulfilled, and the kingdom of God is at hand," Mark 1.15) and yet to be (in the "new heaven and new earth…God himself will be with them…[and] there will be no more death…crying or pain" Revelation 21.4).
Just look at all the parables he spun concerning what that Kingdom would look like and be like when it comes in fullness at his Second Coming. Jesus is leading his followers to be resurrection people long before we are bodily resurrected. To be people of God right here and right now. People who work to do justice, help others, love all of creation and love all humans "as I have loved you" … and to even love our enemies.
Yes, believe…and then hit the trail so we can all "act justly and … love mercy and … walk humbly with our God" (Micah 6.8).