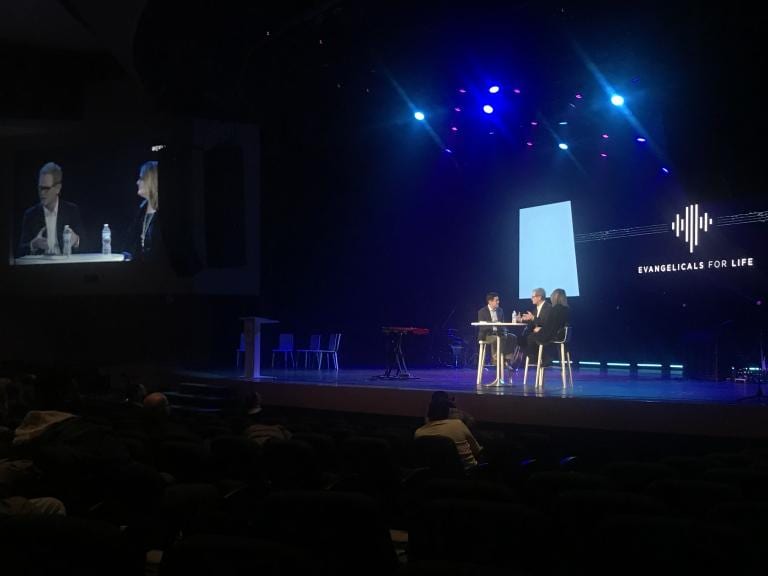 By Heather Beaudoin
In the shadow of our nation's capitol, on the campus of an Evangelical "megachurch" in the Virginia suburbs, the signs of a change in thinking about criminal justice in America were unmistakable. Evangelical activists from around the country shared stories about the problems they are seeing in the system: innocent people being sentenced to death, disparities related to racial bias, unaddressed trauma caused by violence, and so much more. They were gathered for the 4th annual Evangelicals for Life Conference in Vienna, Virginia (January 16-18). This year's event focused on human dignity and prioritizing the most vulnerable in our society, including those who are caught up in our nation's failed system of criminal justice.
"How we pursue justice is part and parcel of our discipleship, our worship of God," said Thabiti Anyabwile, pastor of Anacostia River Church in Washington, DC. He was part of a panel discussion about criminal justice reform held on the main stage during the conference.
Anyabwile continued: "The Book has more passages that are relevant to this than just Romans 13, the state using the sword. It has a lot of other things that go into justice that have to do with how we make a whole community, an entire community, whole. Not just punish the perpetrator."
Pastor Anyabwile is one of an increasing number of Evangelicals at the conference—and beyond—who feel our justice system has not lived up to our beliefs and ideals. We think our justice system is in dire need of new approaches that will make it fairer and more just and will bring it closer in line with our beliefs as Evangelicals.
"Our notions of justice I think ought to be as well-rounded as the notions we find in the Bible. So, that means then, we have got to add to punitive justice—retribution—some other categories, like restoration," Anyabwile said.
A Restorative Approach
Created in the image of God, we as Evangelicals believe human life has limitless value, but the reality is our justice system does not treat all people with the respect and the dignity that they deserve. Our nation's criminal justice system provides few resources for people who have been harmed by violence and need help repairing their lives. In some communities—mostly low-income communities of color—many people have long histories of being hurt by violence, suffering trauma after trauma, without ever getting the assistance that would help them put their lives back on track.
"If you look at the Bible, it is always calling for a restorative approach," said Heather Rice-Minus of the Prison Fellowship, another member of the panel. "We as a nation are known as the world's greatest incarcerator and we should be concerned about those who are in prison, those who are accused, and we should want to make sure that our justice system is reflecting human dignity for both those in prison and those harmed by crime. We need the truth of the Gospel and we need to take some time to reflect on that, each of us, and to look at our own racial bias and have that be what propels us toward reflection on ourselves and asking God for guidance, and leading to greater unity, both in the Church and in our communities, and advancing justice."
Evangelicals working in criminal justice recognize that untreated trauma from violence begets more violence and that those who harm others have very often been harmed themselves. While there is no excusing criminal acts, we acknowledge the need to bring trauma-informed services into the system so that people—those who have committed a crime as well as those harmed—can start to heal, and we can end the cycles of violence that have destroyed so many lives for generations. Addressing trauma is the first step in true crime prevention.
"I think sometimes our criminal justice system has become hardened to the human dignity element of it," said Julie Warren, another panelist. Warren is with the conservative criminal justice reform organization Right on Crime. "I come from the prosecutor world, and it's easy to get angry and it's easy to get disillusioned, but the second you stop seeing that person, that defendant, as a human being, you are losing your ability to be effective."
Our call to action transcends the systemic realities of the criminal justice system and goes directly to the basis of our Evangelical belief system. Individual redemption is at the heart of conservative Evangelicalism.
Redemption and Prevention
This is why Evangelicals have been increasingly calling upon our elected leaders to move the system away from retributive justice and over-incarceration and toward a system of restorative justice and prevention. We need to get at the root causes of crime with trauma-informed and public health approaches that have been proven to work. We must pursue a system based in restoration and redemption, not treating people as if they are hopeless.
"Really what we all need to do is rethink how we look at that criminal," said Warren. "And once you can get lawmakers to start rethinking how they look at that individual then the object becomes making sure that person is successful when they re-enter, as opposed to just continuing to hammer him so that we continue to look tough on crime. You can get a lot of really good things done."
Redemption also drives growing numbers of Evangelical pastors to call on our fellow believers to be consistent in their pro-life beliefs; being pro-death penalty is not consistent with being pro-life. In my eyes, as an Evangelical committed to the sanctity of human life, we must reduce all threats to human life. If we believe in redemption, then we must not forestall God's chance to deliver grace. As we know, Jesus never used deadly force.
The gospel calls on us as Evangelicals to be more Christ-like, and it directs us to love all people, even people who have committed harm. The directive is one of love, forgiveness and redemption, not indifference, mass incarceration and executions.
As seen and heard on the main stage and in breakout sessions at the recent Evangelicals for Life Conference, the ranks of those seeking reform are growing in our movement. We are people who believe the time has come for us as Evangelicals to be in line with the gospel when it comes to matters of criminal justice in America. We hear the call to be champions for the most vulnerable in our communities and to advocate for meaningful change that will finally begin to repair this broken system.