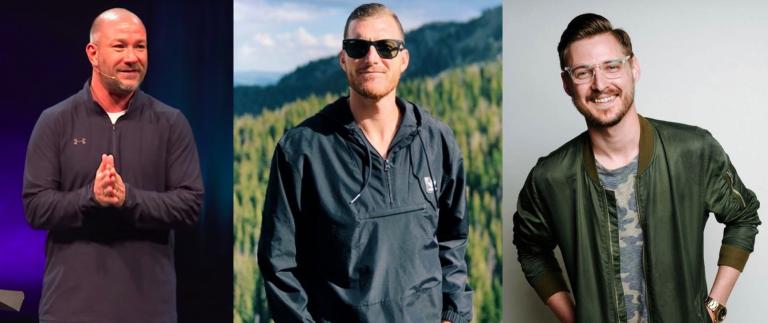 By Ryan Noel Fraser, Ph.D.
Words seem inadequate to capture the mood among many Christians in the aftermath of a recent string of suicides involving high profile pastors of megachurches this year. It seems like an epidemic. There was Jim Howard of the 6,000-member Real Life Church back in the beginning of the year, on January 23rd. Then we were shocked once more on August 25th when popular lead pastor of Inland Hills Church, Andrew Stoecklein (age 30), died by suicide. Most recently, Jarrid Wilson (also age 30), a talented pastor at multi-satellite Harvest Christian Fellowship (15,000 members) in California, where well-known Greg Laurie is senior pastor, took his own life on September 9th. Wilson was an outspoken advocate for mental health issues who sought to raise awareness among believers and bring hope and comfort to those suffering in shame and silence with depression, anxiety and suicidal ideation.
Wilson's tragic death has set many believers on their heels, scratching their heads while trying to make sense of it all. If our strong religious leaders are succumbing to the weight of mental duress and pressure and ultimately giving up, where's the hope for my survival of mental health difficulties? And, for each of these more prominent pastors who have died by suicide, there are numerous lesser known ministers around the nation that have also ended their lives in recent months. My heart goes out to each of the grieving spouses, children and families directly impacted by these unimaginabe losses, as well as to the communities of faith that have been left reeling in collective pain and sorrow.
Once again, it has been made abundantly clear through these jarring wake-up calls that Christians are not immune to mental health difficulties. We are weak, flawed, fragile and vulnerable individuals at best. Faith is not a "free pass" when it comes to various emotional problems and psychiatric maladies. Furthermore, several recent studies indicate that clergypersons and their spouses are significantly more susceptible to depression and anxiety that the normal population—around 400 percent more—due to the immense external (and self-imposed) pressures and "double-stigmatization" of both experiencing something many view as a sign of spiritual weakness and being put on a pedestal. (For recent statistics, see:"Silent Suffering: Pastors and Depression"; "When Pastors Experience Depression".)
Life can be hard sometimes—very, very hard! But suffering with mental health challenges is endemic to the fallen human condition. After all, we're weak and imperfect people living in an imperfect and unfair world. No one is exempt, not even the most faithful and dedicated Christian. In fact, when we struggle, we're placed in the good company of biblical examples of faith like Abraham, Sarah, Moses, Elijah, David, Hannah and the apostle Paul. These men and women of God were broken, yet beloved.
Broken, yet Beloved
David repeatedly wonders why he is so downcast. He says things like, "I am worn out from my groaning.All night long I flood my bed with weepingand drench my couch with tears" (Psalm 6:6, NIV). However, he also exclaims in Psalm 30:5 (NIV), "For his anger lasts only a moment, but his favor lasts a lifetime; weeping may stay for the night, but rejoicing comes in the morning." This beautiful scripture is infused with gratitude, hope and joy at the steadfast love of the Almighty.
After pleading with God three times to remove his unnamed, chronic thorn in the flesh, Paul asserts, in 2 Corinthians 12:9–10 (NIV), "But he said to me, 'My grace is sufficient for you, for my power is made perfect in weakness.' Therefore I will boast all the more gladly about my weaknesses, so that Christ's power may rest on me. That is why, for Christ's sake, I delight in weaknesses, in insults, in hardships, in persecutions, in difficulties. For when I am weak, then I am strong." Paul knew where his spiritual strength came from and learned to accept his own limitations. By way of contrast, sinful pride stems from the basic refusal to humbly accept our finitude, mortality and complete and utter dependency on God.
Those who are struggling with mental health difficulties need to remember three critically important things: (1) God loves them unconditionally and will never desert or abandon them; (2) psychological problems are not symptomatic of faithlessness, spiritual deficiency or God's divine anger and disapproval; and (3) as dark and hopeless as things may seem/feel in the present, hope always remains, and things will gradually improve with time if we continue to hold on. God will never let go of you and nothing can separate you from his love (Romans 8:35–39).
In the face of profound tragedy and psychological suffering, our soul's task is rather straightforward, though often easier said than done: Trust in the Lord with all your heart, and do not lean on your own understanding. In all your ways acknowledge him, and he will make straight your paths (Proverbs 3:5–6, ESV).
Dr. Ryan Noel Fraser grew up in Cape Town, South Africa. He holds a Master's in Divinity and a doctorate in Pastoral Theology and Pastoral Counseling from Brite Divinity School (Texas Christian University). A licensed clinical pastoral therapist, he directs the Pastoral Care and Counseling master's program at Freed-Hardeman University. He and his wife, Missy, have two adult children and a terrific son-in-law. They live in sunny Tennessee where they enjoy hiking and barbequing in the backyard. For more resources on depression and to learn more about Overcoming the Blues, go to ryannoelfraser.com.