Given all the unrest and vitriol on social media, there are many well-meaning people, especially in the believing community, that are "heading for the hills." Whether people are deleting their accounts altogether or opting to join new platforms over more established online mainstays, there is a mass exodus taking place in the virtual world, or, at the very least, certain sectors of it. Some are retreating for personal reasons, citing mental health and concerns about the stress and anxiety as reasons for unplugging. Others are upset by the censorship taking place and long for a place unencumbered by regulation or filters. Still others are disgusted by the negativity and hate that saturates the public online market and are looking to distance themselves from these disturbing forums. While there is certainly merit behind these and other concerns, what some believers are failing to remember is that the online world, like any nation state or people group, is a context that desperately needs the truth and the light. Retreating from these contexts altogether might be akin to pulling missions efforts out of an atheistic/anti-Christian country because it is simply too difficult or too dangerous.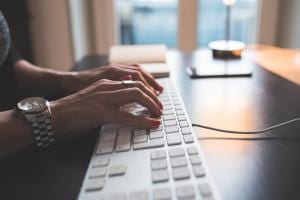 Therefore, before you unplug altogether or totally abandon a mission field that is still available to you, consider the following biblical images.
Salt and Light
Immediately following the beatitudes of Matthew 5:3-12, Jesus provides two word pictures that indicate how counter-cultural values like "gentleness," "righteousness," "mercy," "purity," "peace," etc., are to be applied to the world. The first of these is salt. Jesus says, "You are the salt of the earth; but if the salt has become tasteless, how can it be made salty again? It is no longer good for anything, except to be thrown out and trampled underfoot by people" (Matt 5:13). Whether salt is understood here as a preservative agent or a flavor-giving seasoning (or some combination of the two), salt is only as good as it is applied to whatever food it encounters. Jesus says to his disciples "you are the salt of the earth"—not, "you possess the salt," or "contain the salt," but "you are the salt." In other words, the disciple's presence is required throughout the earth, especially in those areas running the risk of spoiling or in the bland corners in need of life-giving flavor. In fact, it is precisely in the unsavory and/or rotting contexts where salt is most necessary. If such salt is tasteless/absent/left on the shelf, it is useless or, as Jesus says "no longer good for anything…". Disciples today would do well to remember that they run the risk of uselessness in the Lord's mission if they relegate themselves to the shelf and not, in appropriate ways, apply themselves in the very contexts in need of their salty presence (that is, salty as defined here in Matthew's gospel).
Following this salty comment, Jesus introduces another word picture:
"You are the light of the world. A city set on a hill cannot be hidden; nor do people light a lamp and put it under a basket, but on the lampstand, and it gives light to all who are in the house. Your light must shine before people in such a way that they may see your good works, and glorify your Father who is in heaven" (Matt 5:14-16).
Notice that both here and in the instruction given about salt earlier that a large domain is in view. Jesus tells his disciples they are the "salt of the earth" and here he says that they "are the light of the world" (Matt 5:14). With this big picture in mind Jesus continues by suggesting that the light given off by a city set on a hill is fairly conspicuous to the surrounding areas that are more in the dark. Light from such a city is an especially powerful presence amid darkness, providing illumination, perspective, and, perhaps, guidance to those in the darkness. This is why, as Jesus suggests, it would be outrageous to light a lamp only to then hide it somewhere out of sight. Disciples have not been given the light of Christ (Jn 1:4; 8:12) to keep for themselves or to only turn on in the safety of their carefully insulated spheres of influence. Instead, Jesus demands "Your light must shine before people in such a way that they may see your good works, and glorify your Father who is in heaven" (Matt 5:16). Disciples are to be conspicuous and light is most conspicuous in darkness. As Christ suggests, whether those in the darkness want to or not, they need to see the light of God in his people through their good works (and good words). Those who need to see this will not happen upon life and truth-giving light by accident. Light must shine where it can be seen (in the shadows) so that those in the dark might be directed to the Father in heaven and potentially bring him glory. Unfortunately, many are choosing to shine their light only in well-lit and more comfortable areas, neglecting, as Jesus encourages here, to shine what they have been given where it is most needed—in the darkness.
Ambassadors
Another important image the New Testament provides concerning the role of disciples is "ambassadors for Christ." After Paul discusses the ministry of reconciliation that Christ accomplished for believers, Paul states, "Therefore, we are ambassadors for Christ, as though God were making an appeal through us; we beg you on behalf of Christ, be reconciled to God" (1 Cor 5:20). In ancient Rome and today, ambassadors are diplomats sent by nations as official representatives to foreign states. These are people who act on behalf of their leaders to promote specific ideals and activities that are keeping with their homeland. To be sure, while ambassadors are sent across the world to all kinds of places, nowhere is their role more important than in more unfriendly contexts or in those nations where the values and ideals are very different than one's own. As citizens of the kingdom of God, this text from Paul teaches that disciples are to go out into the world and make an appeal on behalf of their leader (God himself) that is in keeping with the principles of their homeland (heaven). This effort exists so that those who endorse alternative values opposed to the life-giving tenets of God might be persuaded to change course in heaven's direction. However, many are choosing to close the embassies they have established in virtual lands and are no longer making a case for God's message in the very places where such a message is most needed.
Peculiar People
One final image worth investigating in this discussion is found in 1 Peter 2:9-12. There, Peter describes disciples as a peculiar people and then highlights their role in the world that they currently inhabit.
"But you are a chosen people, a royal priesthood, a holy nation, a people for God's own possession, so that you may proclaim the excellencies of Him who has called you out of darkness into His marvelous light; for you once were not a people, but now you are the people of God; you had not received mercy, but now you have received mercy. Beloved, I urge you as foreigners and strangers to abstain from fleshly lusts, which wage war against the soul. Keep your behavior excellent among the Gentiles, so that in the thing in which they slander you as evildoers, they may because of your good deeds, as they observe them, glorify God on the day of visitation."
What Peter offers here is, in many ways, a combination of what has already been explored. God's people are said, in so many words, to be ambassadors—"royal priesthood…so that you may proclaim the excellencies of Him" (1 Pet 2:9). They are also lights who have been "called…out of darkness into his marvelous light" (1 Pet 2:9). However, Peter extends the images further by also reminding disciples that they are "foreigners and strangers" who are to live very differently from the world around them ("abstain from fleshly lusts"). While this might suggest a degree of "social distancing" from the world and those more unlovely parts of it, Peter then demands that God's people "keep [their] behavior excellent among the Gentiles so that in the things in which they slander you as evildoers, they may because of your good deeds, as they observe them, glorify God on the day of visitation" (1 Pet 2:12). One of the most common reasons given today for unplugging or signing off various platforms involves the lies, deception, and personal attacks that are found on these sites. However, Peter says here that not only should that be expected, but it should not discourage disciples from engaging with "excellent behavior." After all, responding to hate with excellence goes a long way in modeling the One who was willing to be slandered, attacked, and even crucified for sinners everywhere.
These biblical images (and others) seem to suggest that there is very little, if any, godly precedent for disciples to neglect/avoid/refuse to engage those contexts that might be rotten, dark, foreign, or difficult. In fact, these domains are where believers are needed most and where their engagement is most required as they are on mission. The world is filled with fields that are ripe for harvest and this includes many fields online. While these fields may look more and more like hell than they do heaven, remember the promise of Jesus in Matt 16:18 which says, "I will build My church; and the gates of Hades will not overpower it."
Disclaimer
That said, the concerns cited at the beginning of this article should be taken seriously. There is a place for respite/sabbath from the work we have been called to by God and this includes our involvement on social media. While is appropriate and necessary to "socially distance" at times from these arenas (pun intended), abandoning them altogether is wasting an opportunity God has given us. Perhaps what would go a long way in correcting the feeling of dread and the sense of being overwhelmed by these platforms is a change in perspective. What if we understood these sites as mission fields instead of sources of self-worth? What if instead of seeking what we can glean for ourselves from these forums, we considered what God has given us to share? What if we remembered our role as salt, lights, ambassadors, and peculiar people instead of relegating ourselves to consumer or follower? Something to consider before you unplug entirely or sign off for good.
—
Jeffrey Dickson, PhD studied Theology and Apologetics at Liberty University where he now serves as an adjunct professor of Bible and theology. Dr. Dickson is also the senior pastor of Crystal Spring Baptist Church in Roanoke VA where he lives with his wife Brianna and their children.