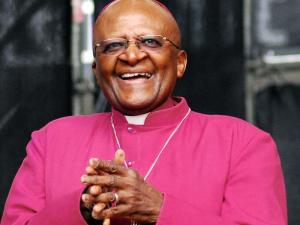 The son of a schoolteacher and a domestic servant, Desmond Tutu would grow up to become a prominent figure on the world stage. With Nelson Mandela locked behind bars for almost three decades, the apartheid government in South Africa saw Tutu as their greatest threat.
Tutu's reputation belied his simple charm. Interviewers remember his impish giggle and his corny jokes. Wearing a standard bishop's uniform—purplish shirt with a white clerical collar—he usually introduced himself as "the Arch," short for Archbishop. Words were his power, for he commanded no armies other than the thousands who flocked to hear him speak. Only 5'4″ tall, he would bound up the steps of a stage, like an excited schoolboy, to address a protest rally. Richard Stengel, the former managing editor of Time, called him "perhaps the most spellbinding speaker I've ever seen":
His voice ranged over octaves, from squeals of laughter to a basso profundo of moral righteousness, from whispers of prayer to shouts of joy. When the spirit moved him—which was often—he would do a Hobbit-like dance on stage. I'd never really understood the phrase "infectious laughter" until I heard him speak. His goal was never changing: to mobilize people against injustice but always, always toward forgiveness and love. In the face of so much injustice and despair, he never lost his faith, and never failed to inspire it in others. There may be no atheists in foxholes, as the saying goes, and there were very few in the audience after Tutu spoke.
Tutu didn't let countless death threats deter him from public appearances. Although the security police targeted for assassination other leaders who opposed apartheid, they considered Tutu too high-profile, especially after he received the Nobel Peace Prize in 1984. They did harass him, however, arresting him at demonstrations, bombing his office, and seizing his passport to keep him from traveling outside the country.
Eventually, the white population, who controlled South Africa's army and police but were outnumbered almost ten to one, realized that something had to change. Out of the limelight, secret negotiations with Tutu and Mandela paved the way to Mandela's release from prison and the first free elections open to all races. Appropriately, it was Tutu who introduced Mandela to cheering crowds as the first president of the new South Africa.
Whites feared, and many observers predicted, that the changeover would lead to a bloody era of revenge. Instead, Mandela sought to defuse the pattern of retribution that he had seen in so many countries, where one oppressed race or tribe took control from another. For help, he turned to his friend, the Arch.
Thus Desmond Tutu undertook one of the most arduous and emotionally wrenching assignments of the last century. For more than three years he presided over the Truth and Reconciliation Commission hearings of South Africa. The rules were simple: if a white policeman or army officer voluntarily faced his accusers, confessed his crime, and fully acknowledged his guilt, he could apply for amnesty, with some restitution to the victims. Hard-liners grumbled about the injustice of letting criminals go free, but Mandela and Tutu both insisted that the country needed healing even more than it needed justice.
Day after day, Tutu heard details of deeds from hell committed in his own country. Afrikaner agents told of abusing pregnant women, torturing prisoners with waterboarding and electric shocks, beating suspects senseless, and sometimes shooting them in cold blood. Blacks confessed to "necklacing" corroborators by hanging gasoline-soaked tires around their necks and lighting them. The horror stories knew no end.
Spellbound, South Africans watched on live television as victims of violence, 22,000 in all, gave testimony. Some began calling it the Kleenex Commission, for occasionally Tutu would put his head on his desk and sob as he heard the accounts.
When he accepted the assignment, Tutu braced himself for a severe test of his theology, in part because "good Christians" had carried out so many of the crimes. Apartheid was, after all, the brainchild and official doctrine of the Dutch Reformed Church there. To his surprise, his faith strengthened.
Tutu insisted on opening the days' meetings in prayer. In the midst of that time a reporter asked him, Why do you pray? He answered that prayer was his main source of strength:
If your day starts off wrong, it stays skewed. What I've found is that getting up a little earlier and trying to have an hour of quiet in the presence of God, mulling over some scripture, supports me. I try to have two, three hours of quiet per day and even when I exercise, when I go on the treadmill for thirty minutes, I use that time for intercession. I try to have a map in my mind of the world and I go around the world, continent by continent—only Africa I try to do in a little more detail—and offer all of that to God.
Then he would put on his judicial robes and take his seat before a commission that endeavored to bring truth and reconciliation to a morally polluted land. He stayed at his post even after being diagnosed with prostate cancer.
When the commission released its final report, Tutu published his personal reflections in a book titled, No Future Without Forgiveness. The hearings had confirmed his belief in forgiveness as the only way forward from a dark past.
Having looked the beast of the past in the eye, having asked and received forgiveness and having made amends, let us shut the door on the past—not in order to forget it but in order not to allow it to imprison us. Let us move into the glorious future of a new kind of society where people count, not because of biological irrelevancies or other extraneous attributes, but because they are persons of infinite worth created in the image of God.
In his remaining years, until he died last month at the age of 90, Tutu lived out what he had learned. He met with people on both sides of the nation's divide—conservatives and liberals, white nationalists and Black activists, policemen and prisoners—always listening to them with civility and respect. Indeed, he emerged from the TRC hearings with renewed hope: "For us who are Christians, the death and resurrection of Jesus Christ is proof positive that love is stronger than hate, that life is stronger than death, that light is stronger than darkness, that laughter and joy, and compassion and gentleness and truth, all these are so much stronger than their ghastly counterparts."
Gary Haugen, who worked as an investigator for the TRC and went on to found the International Justice Mission, reflected on Archbishop Tutu's death this way: "I reckon that this would be one of the more seamless passings of a human from one dimension of eternal life to another because he seemed to continuously breathe in this life from the same breath he now draws in the next. As a young person, I saw with my own eyes a life lived in an everyday freedom from fear that I had never seen before, nor imagined to be possible. Under the most severe test of evil and violence, he lived as if the things that Jesus taught were actually true—a way of living that seemed to change everything."