Isn't amazing -and profoundly sad- that it usually takes over very brave person stepping into certain death or torture for the rest of us to get our heads out of our navel's long enough to see that some things are worth living and dying for?
Look at Rosa Parks.  She knew without a shadow of a doubt what angry, racist white men were capable of in 1955 America, yet she went ahead and got on the front of that bus for sake of herself and every other disrespected African-American of the day.  The woman sparked a movement!  A movement called Civil Rights.  Maybe you've heard of it.  She was very, very brave.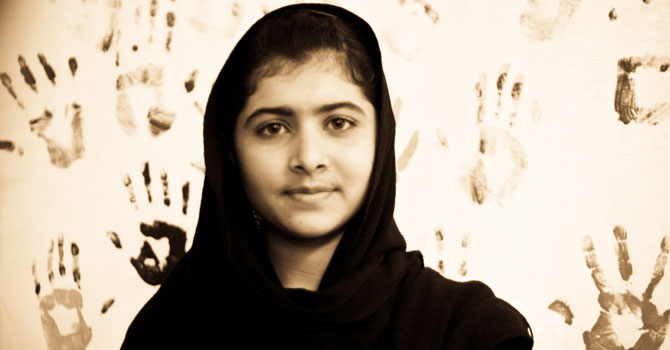 So is Malala Yousafzi.  Malala is 14.  Malala is just a baby yet has accomplished a tremendous amount in the span of her brief life.  Malala lives in Pakistan one of the most dangerous places on the planet for a woman to live.  Malala had the courage that very few of us comfy 1st-world'ers possess to take onthe Taliban -The Taliban, people!- by writing for the BBC about what life was like as a woman under Taliban rule in Pakistan: hiding books under shawls, sneaking an education and finally being forced to quit school all together.
Isn't it impossible for 1st world'ers to imagine someone threatening us to drop out of our bachelors or Masters program simply because we are women?  And even more than that, to threaten us bodily?!  If someone hunted me down, put a gun to my head and pulled the trigger because of my desire to finish my Masters degree what would you do?  I hope you would do something.  God, I hope would do something if that happened to you.
Malala Yousafzi was hunted, and shot in the head by the Taliban who later boasted of the crime saying that Malala was continuously warned to stop promoting education for girls.  They said "let this be a lesson."  Malala knew the risks and went right on ahead advocating.  Amazingly, perhaps miraculously, she survived the brutal attack.  But then something else happened…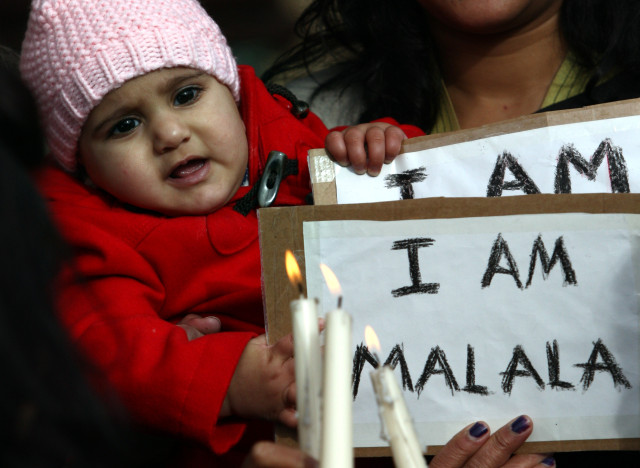 The next morning the news showed pictures of children across Pakistan hold up Malala's picture at vigils and demonstrations, going so far as to pray for her in school.  They do this knowing they could also be brutally murdered.  There's so much beauty and courage and hope in that I can't even take it because it's Malala's courage that inspires them.  Malala's courage, like Rosa's is sparking a movement across the globe!
I am an educated, 1st world, American citizen.  My education has been important for my success and for the success of my children.  If someone shot me in the head because I continued to try to learn & write, give & grow I hope that YOU would do something about it.  And if you would do it for me,
do it for Malala
and girls worldwide.  We are all Malala aren't we?
First, if your a person of faith, pray for Malala's recovery and for her continued safety.  Second, you can go to the Office of the UN Special Envoy for Global Education's website to sign the petition to call on Pakistan to agree to a plan to deliver education to all its children.  You can share this post using the #IAmMalala hashtag to help spread awareness.
You can give financially to the Women's Education Fund going directly to Pakistan & Afghanistan.  You can tell your kiddo's about it, (I plan on telling mine) as Angelina Jolie told hers. Finally, you can follow along on November 10th in solidarity for Malala Day as Former UK Prime Minister Gordon Brown – the UN Special Envoy for Global Education – and his wife Sarah will deliver this petition to the Pakistani president on this day.
*Special update on Malala from the UN website.*
Malala's father says her family will continue the fight for a girl's right to education.
He says they will not be deterred by repeated Taliban threats to end both her life and his.
He says that they are sustained by the widespread support from all over the world.
Yesterday Angelina Jolie and Tina Brown set up a fund for girls' education in Afghanistan and Pakistan in honor of Malala.
This week 'Hope not Hate', an organisation I have long admired and whose campaign fights intolerance and racial extremism everywhere, has asked its members to sign a card for Malala sending their best wishes. This card is to be presented to the Pakistani High Commissioner to take to Malala. Their website Hope Not Hate.
All around the world, protesters with 'I am Malala' t-shirts and badges are raising the banner of the right of every girl to go to school.
Malala may have been halted temporarily, but her cause can never be silenced.
This wonderful young woman is fighting for her life because she fought for the right of every girl to go to school.

Now we must all fight for Malala's cause.
  May this encourage & inspire you to face whatever you most fear today.