I was sitting there at the bar in a ritzy Manhattan hotel when he walked in.  He smiled at me.  I literally turned around.  He's smiling at the glamazon that must be seated behind me because I am wearing grey skinny jeans, a bright red t-shirt that reads "EVERYONE TALKS ABOUT MY BLOG," & red gym shoes. I've been walking the streets of Manhattan for 8 hrs.  I am sweaty, my lipstick is  caked.  I am not the picture of sexy.  I am the picture of what I actually was: a married Mama of two so excited to spend 2 days alone in the city for a blogging conference she wore RED KICKS (red ring & red sweater but who's counting?)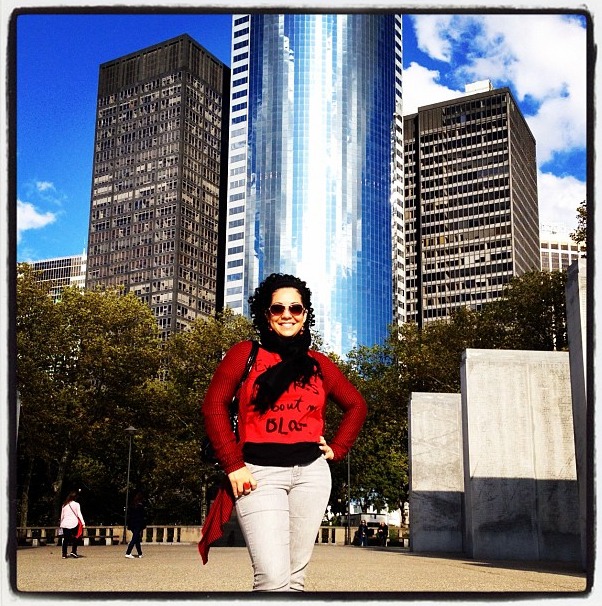 Life stage be damned, he sits next to me and engages in small talk.  He "loves writers" apparently.  He buys a bottle of expensive wine though I tell him I don't like wine. "You will like this wine," he says.  I don't.  He does not hear me, he sees me.  He's wearing a $5,000 suit, a $30,000 watch.  God only knows about the beautiful, beautiful shoes.  He's 50 at least.  Maybe pushing 60.  An old Italian man, perhaps a grandpa and I think he's hitting on me.  Then an invitation to his room.  I say no thank you.  He tells me he "doesn't give up that easy." I tell him I'm married, he doesn't care. Have another drink he says. I haven't finished the first glass. Again, "come up?"  He's interested in me, he says.  In the 5 whole minutes we've chatted.  He's not unattractive to me, but he's  much older and it's gross.  I think of the scene in Something's Gotta Give when Jack Nicholson has a heart attack trying to fool around with a girl half this age.
Is this love or is this going to be a one night stand?
Read the rest over at A Deeper Story?