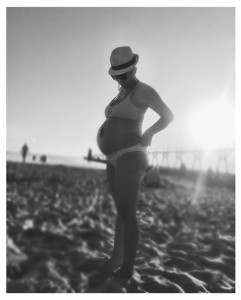 I see the curves of my breast and they please.
I see the round of my rump and it entices.
I see the button of my belly
& giggle at its cuteness.
I rub the bulging bump that
sustains my daughter
it is tight
but lovely.
My legs are thick pillars
supporting the whole of us,
two beating hearts.
My areolas expand into flying saucers
while my nipples take on an unyielding demeanor
pushing past 3 sturdy layers
to embarrass me fully.
My breasts have plumped to the next cup
overflowing with milk & honey.
My face has smoothed itself
into a summery glow
while my feet have spread
into an ogre-like aura.
My hair curls tighter
while my sense of smell betrays.
I lose a few meals now and then
but this does not betray my overall impression
I am a voluptuous, baby-making goddess.
My mind is on sex
to desire
and be desired…
Join me for the rest on the Mudroom blog? (Where we are exploring sex & sexuality for the month of March).