Recently I have been reading about the decisions of several Christian leaders to give up on private Bible reading.  One reason why they are giving up seems to be that they lack confidence in their ability to be faithful interpreters of the meaning of the Scriptures.  Another reason is that they think that many of the books of the Bible were intended to be read publicly.
They are wrong, though. It is not a good idea to give up on private Bible reading.  Here are two reasons.
First, these days, especially in comparison to past generations, we are struggling with a massive Biblical illiteracy problem.  Ordinary Christians like us these days quite simply do not seem to know what the Bible says.  So one reason why it is a bad idea to give up on private Bible reading is that without it our Biblical illiteracy problem would grow even worse.  Every tool in the tool set which can be deployed against Biblical illiteracy is a good tool.  And since the Bible is read so little in public outside of church services these days, without private Bible reading a major tool which could potentially be deployed against Biblical illiteracy would be lost.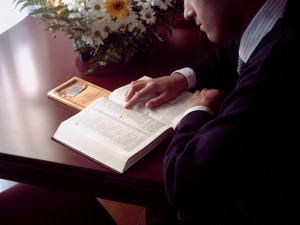 Second, I think that with the right methodology the task of reading the Bible can be profitable.  In particular, I think that it is possible to read the Bible in private settings without necessarily running the risk of going wrong in one's interpretative efforts.  I do of course agree that an interpretive community is incredibly important, especially when we are dealing with texts as difficult as the Holy Scriptures.  But at the same time I am confident that it is also possible for us to do the grunt work of getting the gist of the text in private, on our own, before getting together in church services and similar settings to interpret the difficult aspects of the text in a communal way.  The idea would be first to understand the bare facts of the text on one's own and then later to interpret the meaning of the text, including especially its hard parts, in a public manner.  Through a proper methodology I do think that it is possible for us to be good stewards of Biblical interpretation.
This post originally appeared on the blog 'Reflection and Choice': http://christianthought.hbu.edu/2013/09/25/private-bible-reading-lets-do-it-right/