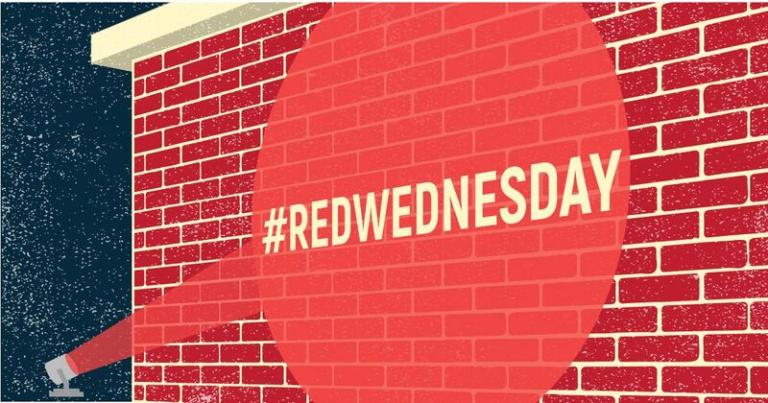 Tomorrow, November 22, 2017, is #RedWednesday, an effort to call attention to those who are persecuted for their faith around the world using the red.  Red is the color traditionally associated with Christian martyrs, and with Jesus Himself (hence, the abundance of RED church doors) but the #RedWednesday effort is for all victims of persecution and of Antisemitism globally.
The 21st Century Wilberforce Initiative (21CWI) introduced this campaign in the United States. #RedWednesday began in the United Kingdom, as a creation of Aid to the Church in Need(ACN-UK). In Great Britain, the color red is "floodlit on buildings, churches and other places of worship, social media and various other delivery paths to create awareness about the rising problem of persecution." On #RedWednesday a fiery red glow is emitted from The Houses of Parliament, Westminster Abbey, and even the London Eye — the giant Ferris Wheel — as they show their solidarity with the persecuted.
21CWI envisions a similar response of compassion and solidarity in the United States, asking you to wear red on November 22, post photos of yourself wearing red on social media (using, of course, the hashtag #RedWednesday), and use switch your porch or patio lightbulb to a red one for the day. 21CWI's Director of Policy Relations, Nathan Wineinger, has convictingly added, "The persecuted do not just need your compassion – they need your citizenship. They need you to get other citizens to stand for faith and freedom. #RedWednesday is the first step."
You are probably thinking, "this is awfully last minute! After all, tomorrow is Wednesday, November 22!" And so it is, but to try to convince you to go the extra mile in the midst of your pie dough rolling, turkey thawing, and family dinner attendance-checking, here are the Top Five Reasons why you should personally support #RedWednesday:
5. Everyone looks good in some shade of red!

Let's get that one over with right away! Regardless of whether you are a "winter" or a "summer," an "autumn" or a "spring" — or even a ginger! — you must find some shade of red that flatters you, since once you don your red garments and take your picture supporting #RedWednesday, your photo will be traversing the entire globe and everyone will see you and comment on whether or not you are wearing a complimentary shade of red! Nah. We can hope and pray that our efforts will indeed traverse the globe, but if your photo, standing up for the persecuted by wearing red on #RedWednesday, should make it to Nigeria or Sudan or Pakistan or even North Korea. . .I can guarantee you that your persecuted brothers and sisters will not be looking for an excuse to criticize your fashion sense. They will be shedding tears of joy that you care enough about them to wear red.

4. If you have a red light shining on your porch. . . you'll give them something to talk about! 

At a time when it seems as if  everyone is involved in, not just talking about, something scandalous, how nice to give your family, friends, and neighbors something good and righteous, albeit sad, to talk about. You can probably find a regular red light bulb fairly easily for your porch or patio, or to shine from a window in your house. It may too late this year to acquire a nice red floodlight to shine on the side of your church building (or, you may be like my church, and not have a building on which to shine a light! #solidarity), but keep this blog post handy for #RedWednesday next year, and/or buy early.

3. It will give you a topic of conversation for Thanksgiving dinner that may not cause family fights!

Connected to number four above. Instead of talking about President Trump's twitter account, or about Russia, or about Uranium One, or about what is happening with tax reform, or . . . name your family's particular poison. . . in mine it was whether or not you were pre-Trib, post-Trib, or, like me, pan-Trib (it all pans out in the end) you get to talk about something that really matters! When Aunt Lisa asks you, "how can you support that racist, anti-Semite, Nazi (fill in the blank)?" you can say, "Guess why I wore red yesterday!" Or when Uncle Andy asks you, "Do you believe that our President is going to Make America Great Again?," you can respond, "America is great because we stand up for the persecuted, like on #RedWednesday!"

Not only that, but you can boast to your mom, who knows you are an atrocious speller, about how you will NEVER again misspell "Wednesday" after typing it 452 times in the #RedWednesday tweets.

2. You will be participating in an effort WITH brothers and sisters across the pond! 

Even for those of us who are not globalists — in fact, probably more so for those of us who are not globalists — it is a lot of fun to know that in Great Britain hundreds of communities of men, women, and children are also wearing red and sharing this advocacy adventure of #RedWednesday with us. (A few hours earlier!) Tomorrow evening, as British advocates stroll past Westminster Abbey, glowing red, with the statues of 10 twentieth century saints and martyrs smiling down their approval from the above the west gate, they may retweet your photo, if you take part in #RedWednesday.

And finally, the Number One reason why you should support #RedWednesday:

1.  You WILL be making a difference for persecuted people around the world!

As 21CWI's Nathan Wineinger said above, #RedWednesday is the first step. But there are many more steps you can take! If you don't participate because you think wearing red or shining red lights is nothing, you are wrong. Doing nothing is nothing. Being a part of #RedWednesday is making a commitment to give the persecuted not just your compassion, but your citizenship. 21CWI's Distinguished Senior Fellow, Congressman Frank R. Wolf (retired) taught many of us long ago that "there are more churches and synagogues than chambers of commerce in the United States" and that "politics is downstream from culture, and culture is downstream from the faith community." In other words, people of faith can and should affect and influence popular culture (instead of the other way around!), and in turn, that culture will affect the political system. People of faith should (and could) have a lot more to say about how U.S. foreign policy affects the persecuted.

And people of faith have a spiritual/Biblical mandate to defend the persecuted. In Judaism there is the beautiful concept of tikkun olam "repairing the world" and/or "establishing G-d's sovereignty over the earth." Christianity speaks similarly about bringing to the earth the justice, peace, freedom, and righteousness of G-d's Kingdom. G-d's sovereignty is a place where truth, justice, peace, and righteousness reign. In our flawed humanity we may only be able to do a small repair job, or bring a very faint shadow of His Kingdom, but we can stand against evil and call it evil!
Well, it's just a few hours until #RedWednesday begins. . . what will you do to show your solidarity with the persecuted?