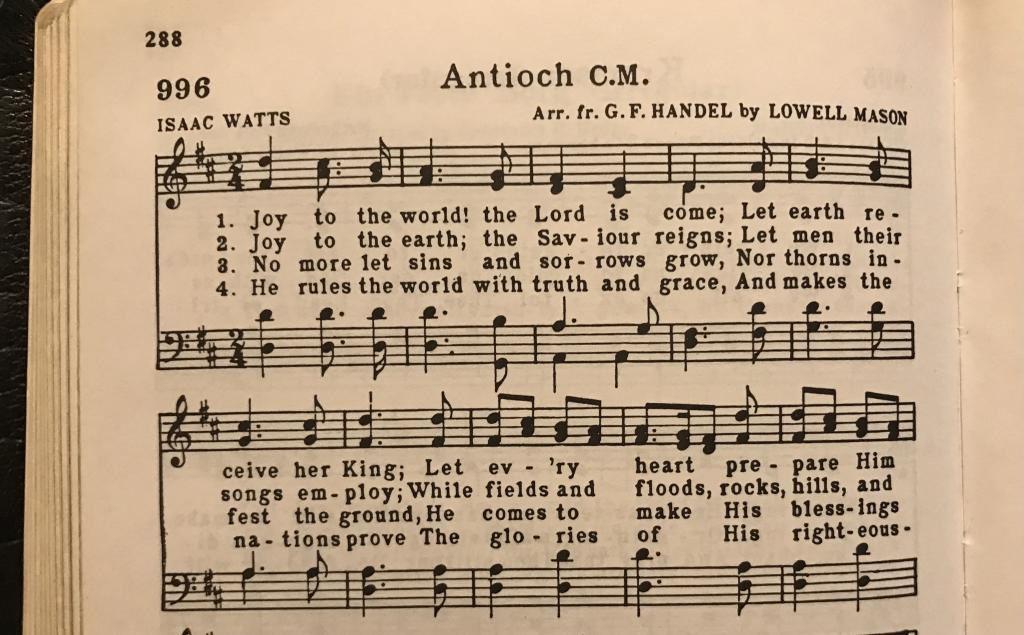 "Joy to the World" has always been my favorite Christmas carol, even though it's not a Christmas carol. Isaac Watts, known as the inventor of English hymns, wrote it in 1719 as an interpretation of Psalm 96 and 98, about the day the Messiah will come. What better reason to shout joyfully? And how can you go wrong with music supplied about 50 years later by George Frederick Handel?
My first trip to London I went in search of Isaac Watts' tombstone. I found Bunhill Fields Cemetery and Wesley Chapel, where the graves keeper was insistent that I see Susannah Wesley's grave before he directed me to that of Watts. Said graves keeper offered to take my picture in front of Susannah Wesley's grave! But this was in the days of film cameras, and I only had enough film left for Watts and another literary star, Daniel Defoe.
Here are my "Joy to the World" rules. Four verses, none should be left out. Too many people, and even professional recordings leave out the powerful third verse of this hymn. It is such a declaration of who God is and why He has come (to make His blessings flow far as the curse is found)!
And that's not my only complaint. Do you think the second verse begins, "Joy to the world, the Savior reigns"? Wrong! It is "Joy to the earth, the Savior reigns." Watts wants to speak about the Lordship of the Messiah over both the people of the earth and creation itself. He combines declarations about both aspects of Christ's Lordship within stanzas, even within lines:
Joy to the world. . . let every heart prepare Him room, And heaven and nature sing

Joy to the earth. . . let men their songs employ; while fields and floods, rocks, hills, and plains. . . 
So, it's not surprising that the first time I tried my hand at a pretty ambitious poem project it involved "Joy to the World." I wanted to write a poem to include with my Christmas cards and of course, I turned to the song that is not truly a Christmas one!
This poem, "Joy to the World: A Poem Cycle Based on the Song by Isaac Watts" was published in the journal Christianity and Literature, Volume 31, Issue 1, for 1981. I recently found it again and worked on it again. Here is the 2021 version:
Joy to the World: A Poem Cycle Based on the Hymn by Isaac Watts

1. Joy to the World

World hate-wrapped and spinning on axis of despair

Answers joy-to-the-world with blast and blight.

Body-wracked, spirit-wrecked remnant of man hears the loud response

Silently carry over death-strewn field,

Quietly resonate in hunger-bloated bellies,

Gently blow Auschwitz ash across time.

Such overwhelming evidence of world's cursed night.

2. Let Every Heart Prepare Him Room

Clenched-fist-tight heart masked against sorrow,

Allows nothing to touch itself, allows itself to touch nothing.

Stay steeled! Open and receptive, hearts are at risk.

Full of self, no room for rejection.

Full of self-pity, no room for others.

Full of self-hate, no room for singing.

Every heart stay safe, stay separate, stay home and give no room.

3. The Savior Reigns

Savior love-wrapped and spinning on an axis of hope

Defies steel heart and sin and world's despair.

Reaches to man who cannot reach Him.

From timeless God to helpless born baby.

From heaven-shaping King to Hebrew shaper of wood.

From immortal Sovereign to man with days as grass.

Body on beams of wood asks no payment but heart-room.

4. Far as the Curse is Found

God leaps from tomb to tomb, uprooting thorns long impressed.

Blessings flow on clenched hearts, wresting them from sin and sorrow.

Spellbound hold of Hell is broken with joy-to-the-world shout.

Self unmasked by truth and grace

Surrenders (the wonders at His love!) and

Repeats the sounding joy, Repeats the sounding joy

To wrap the world with glory and righteousness, prepare for His return.