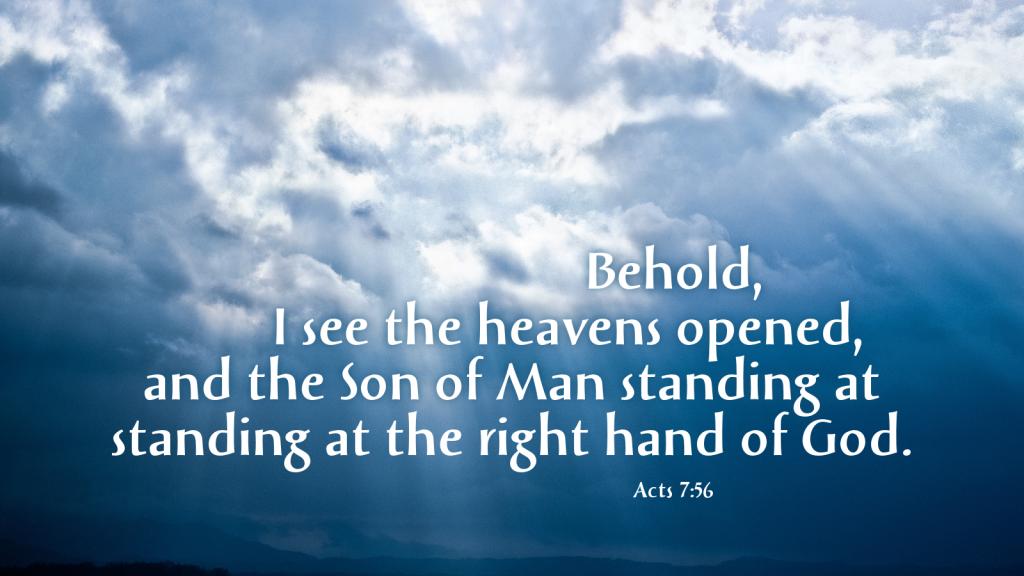 Yesterday, Sunday, December 26, was the Feast Day of St. Stephen, the first martyr of the Church. Below is a collect for St. Stephen's Day:
Grant, O Lord, that in all our sufferings here upon earth for the testimony of your truth, we may steadfastly look up to heaven, and by faith behold the glory that shall be revealed; and being filled with the Holy Spirit, may learn to love and bless our persecutors by the example of your first martyr Stephen, who prayed for his murderers as did his Lord and Savior; who now sits at the right hand of God to intercede for all who suffer in his Name, and who lives and reigns with the Father and the Holy Spirit for ever and ever. Amen.
Even more striking is to read the account of Stephen's martyrdom in the Book of Acts. You know the story. Stephen was stoned to death. He asked the Lord to receive his spirit. He forgave his killers, asking God not to hold their sin against them. And he fell asleep.
And Stephen, full of grace and power, was doing great wonders and signs among the people. . .. Then they secretly instigated men who said, "We have heard him speak blasphemous words against Moses and God." (Seriously!? Read chapter 7, Stephen's sermon before the council to see his great honoring and reverence for Moses and goes without saying for God!) . . . And gazing at him, all who sat in the council saw that his face was like the face of an angel. (Acts 6: 8, 11, & 15)
At the end of his sermon, Stephen told the people they were "stiff-necked" "uncircumcised in heart and ears," that they resisted the Holy Spirit, and that their fathers persecuted the prophets.
Not surprisingly, "when they heard these things they were enraged, and they ground their teeth at him. "But he, full of the Holy Spirit, gazed into heaven and saw the glory of God, and Jesus standing at the right hand of God. And he said, "Behold, I see the heavens opened and the Son of Man standing at the right hand of God." But they cried out with a loud voice and stopped their ears and rushed together at him." (Acts 7: 51-52; 54-57)
Dozens of Scripture verses describe Jesus as "seated at the right hand of the Father." Seated. A few examples:
Luke 22: 69 "But from now on the Son of Man shall be seated at the right hand of the power of God."
Hebrews 12: 2 "Looking to Jesus, the founder and perfecter of our faith, who for the joy that was set before him endured the cross, despising the shame, and is seated at the right hand of the throne of God."
Revelation 3: 21 "The one who conquers, I will grant him to sit with me on my throne, as I also conquered and sat down with my Father on his throne."
Psalm 110: 1 "The Lord says to my Lord: "Sit at my right hand, until I make your enemies your footstool." But notice that God says "sit . . . until."
And then things change. Jesus stands in judgment. The account of Stephen's martyrdom describes what is happening, and then Stephen himself exclaims that he sees the heavens open and the Son of Man standing. Jesus as the "Son of Man" connects to Daniel's prophecy in Daniel 7 that describes both "the Ancient of Days" and the "Son of Man" as bringing judgment.
Stephen, the prophet and martyr, had a vision of the Messiah rising in judgment on those who not only resisted the Holy Spirit but had brought false charges against him. There could be other purposes in Jesus' standing as well.
Some theologians dispute the idea that Jesus could have been standing on Stephen's behalf, as well as in judgement. But it sounds like Jesus to me! St. Paul said, "For this light momentary affliction is preparing for us an eternal weight of glory beyond all comparison." Stephen's torment and agony don't seem "brief and momentary," but Jesus is the North Star, guiding him Home.
In addition, I wouldn't be surprised if Jesus was standing out of honor of the first martyr. Jesus knows what it is like to be a human and experience painful death. Did He say to the angels, "That's My son, Stephen! He'll be here soon!"
Jesus told His disciples that there is rejoicing in the presence of the angels over one sinner repenting. Surely there is also standing in hushed reverence over one martyr's death. That's what Stephen saw before he died, but I believe that has continued through the ages as the cloud of faithful witnesses from every tribe and tongue and nation has grown.