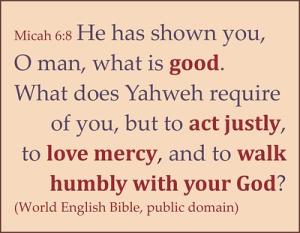 Now, as they went on their way, Jesus entered a village. And a woman named Martha welcomed him into her house. And she had a sister called Mary, who sat at the Lord's feet and listened to his teaching. But Martha was distracted with much serving. And she went up to him and said, "Lord, do you not care that my sister has left me to serve alone? Tell her then to help me." But the Lord answered her, "Martha, Martha, you are anxious and troubled about many things, but one thing is necessary. Mary has chosen the good portion, which will not be taken away from her." – Luke 10:38-42, ESV 
Comfort or Consternation?
"I've never liked this story," my friend furiously whispered to me as we came upon the Gospel this past Sunday.
Immediately I understood her meaning. Jesus is frustratingly dismissive of Martha's plight as she works hard while her sister Mary sits to listen. I, who typically scramble around like a chicken with my head cut off to tidy up before having company over, tend to hear this story with relief. "Jesus doesn't care if my house is messy," I tell myself. And yet, looking at it from Martha's point of view brings me more consternation than comfort. 
All You Need Is Love?
Jesus tells Martha that only one thing is needed, and Mary has chosen it. In my mind, I hear the Beatles singing, "All you need is love!" But is love really all you need?
Don't we also need food, shelter, and some degree of cleanliness for good health (particularly in a time before modern medicine?)
Don't we need all the things Martha is tending to, without the help she desires from her sister?
Ultimately, providing for all of these things is part of Love.
Love is multifaceted and multidimensional. It is active as well as contemplative, a work of the body as well as the spirit. It is shown as much in Martha's careful, fastidious service as it is in Mary's rapt attention. 
Like the story of the Good Samaritan that precedes it, this story asks, "What does Love require in the moment?" In a crucial way, Mary answers Love's call. But in another way, so does Martha. 
Is it possible that Jesus falls short of Love's requirement in the moment?
Micah 6:8 summarizes Love's requirements as follows: "Do justice, love kindness, and walk humbly with your God." I'd like to examine where I find these aspects of Love … and where the story leaves something to be desired.
But first, a quick look at Mary and Martha.
Radical Mary
Mary isn't just chilling out. She is claiming her place as a disciple. Sitting at Jesus' feet, she assumes the cultural posture of a student awaiting the teacher's instruction. Her actions bear witness not just to Jesus' authority, but to her confidence in her own worthiness to spread his message. As fellow Patheos author Herb Montgomery writes, Jesus subverts the patriarchal conventions of his time by "opening the authority of teaching to women."
Mary's love for Jesus invigorates her. It is a radical act of faith to defy societal constraints to live into your calling, as Mary does. Later, Love will call her to the extravagant act of anointing Jesus' feet before he dies. Love will draw her to the empty tomb. Love will embolden her to be the first to proclaim the resurrection, even though she will be accused of foolishness and hysteria for doing so. 
Love calls Mary to cast caution and convention aside. It's radical and brave and defiant of all obstacles. Sometimes, this is how Love speaks, and Mary listens and responds.
Steadfast Martha
But Martha is no less a follower of Love than Mary.
It is Martha, after all, who invites Jesus into her home. Martha was doing more than abiding by the cultural conventions of hospitality. She went out of her way to invite and welcome Jesus because of her steadfast faith.
In the Gospel of John, it is Martha who leaves her village to meet Jesus after her brother Lazarus has died. She tells Jesus that her brother would not have died if he had been there. Her's is a statement of faith tinged with grief and some justifiable anger, for Jesus had purposefully taken his time getting there. There is a faithfulness in the raw honesty Martha expresses. And there is also faithfulness in her following words, "But even now I know that whatever you ask from God, God will give you." Martha's faith in Jesus defied even death, even before he raised her brother… or was raised himself.
Later, at the same dinner party where Mary anoints Jesus' feet, Martha is in the background, serving. Her love is unostentatious where Mary's is extravagant, but it's there, doing what needs to be done. 
The steady love of daily service is no less than the bold love of subverting convention. This kind of humble love goes unnoticed, but the world would fall apart without it. Martha embodies this steadfast Love.
With this in mind, let's try to imagine what Jesus is teaching while Mary listens and Martha struggles to serve alone.
Do Justice: Jesus's Teaching… And Martha's Service
The first call of Love is to "Do justice," and, while we don't know what Jesus is saying, we know that he is embodying justice simply by welcoming Mary as a disciple.
Everything Jesus says and does is oriented toward restorative justice. And welcoming women as disciples restores equity and dignity that societies lose to misogyny and patriarchy. Justice recognizes the full image of God in every human being, and makes space for all people to live into their fullest selves. 
Thus the very act of teaching Mary as a disciple is part of fulfilling Love's call.
But what, exactly, is Jesus teaching?
Possibly the very service that Martha is trying to fulfill.
After all, Jesus says "The Son of Man came not to be served, but to serve," and "whoever wishes to be great among you must be your servant."
Martha already knows something about what Jesus is teaching, for she intuitively understands the call to serve. Service, giving of yourself and living for others, is at the heart of a just world. Not a world in which the poor serve the rich or servants work for masters, but a world in which we all take care of each other.
Serving and receiving service in kindness is the work of Love, the foundation of the Beloved Community.
Maybe Martha is "distracted" by anxiety or a desire for perfection, but she invited Jesus into her home and is serving him out of love. And if that love had been acknowledged, perhaps the frustration Martha seems to feel when she asks for help would be alleviated.
Walk Humbly: Mary Meets Love In The Moment
I'll come back to "Love kindness." 
Walking humbly with God is about knowing you are loved so that you can be attentive to Love in the moment.
Mary, confidently taking her place as a disciple, is alert to Jesus, ready to listen and respond. 
There's a calmness and a humility in being present to Love. Mary knows that she can claim a place at Jesus' feet, as his disciple, because she is enfolded in the security of Love. Instead of needing to prove herself or struggle for perfection, Mary can relax in Love's presence and open herself to Love's message.
When Jesus came to visit Mary and Martha, Love called for the attentive presence which Mary gave. And there is something comforting to knowing that Love doesn't critique our housekeeping skills. The demands and pressures society puts on us and we put upon ourselves are alleviated in knowing we are Loved and resting in Love's presence.
But it is unfair to compare Martha to Mary negatively when she was the whole reason Jesus was there in the first place!
Love Kindness: What I Wish Jesus Had Said
Jesus is Love embodied, but I can't help but think that even he missed Love's call when it came to Martha.
He was right to validate Mary, but not at Martha's expense.
I can't help but think a little kindness could have gone a long way.
If Martha's anxiety was getting in the way of the love she was striving to show, then that anxiety probably was not alleviated by being compared unfavorably with her sister. Jesus, well acquainted with sibling rivalries arising from favoritism throughout scripture, should recognize this!
That's why I wish Jesus had said something like, "Martha, thank you so much for inviting me into your home. It is lovely. Please come and join us; the house and the meal can wait, and I desire your company." Or maybe he could have said to his disciples (including, but not singling out, Mary), "Look at how hard Martha is working to welcome us! Let's help her out and then we can all enjoy ourselves together!" 
I'd like to think he did say all this, and the men who told this story forgot to include it. But I can't know that. 
I can recognize that the message of this story is to tune out the distractions and tune into Love. But when I tune into Love, I find Love calling me to fill in the gaps where I find kindness lacking. 
Even in the words of Jesus, but most especially in my own behavior.
Image: Photo by Martin LaBar via Flickr.