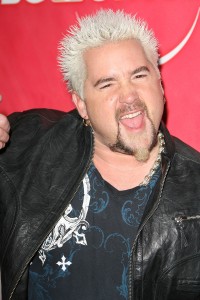 When Guy Fieri won The Search for the Next Food Network Star, no one realized how big of a star he would truly be. He's now arguably the most recognizable face on the network, and his show Diners, Drive-Ins, and Dives is one of the channel's highest-rated. But a new article on the food-centric website CityPages shows a side of Fieri that viewers haven't seen before: a homophobic, egotistical man who makes offensive comments about Jews.
The bulk of the article is an interview with David Page, the original producer of Diners, Drive-Ins, and Dives, who was let go by the Food Network (Page claims that he was fired per Fieri's personal request, which the network denies). Page says that as Fieri grew more and more famous, he surrounded himself with an entourage and began to skip tapings or show up unprepared. Though Page and Fieri's relationship was fractious, they managed to get their jobs done. However, Page alleges that stuff came to a head when Fieri negotiated a deal for books based on the show and cut Page out, even though the show had been his idea:
The final straw was a dispute over how to divide revenue from the bestselling Diners, Drive-Ins, and Dives books. Fieri had promised to "split" the proceeds. Instead, Fieri gave Page Productions nothing.

When the second book was commissioned, Fieri approached Page to ask for access to some of the show's research material. That led to an "uncomfortable discussion" over compensation, Page claims.

"They were demanding tremendous research from my people, and pictures, but they didn't want to pay for them," Page says. "Guy said to me: 'You know, it's true: Jews are cheap.'"
Page also says that Fieri made homophobic comments and asked that potential restaurant owners be 'screened' for homosexuality before being featured on the show. Fieri and the Food Network both deny this.
While City Pages certainly did their due diligence by contacting Fieri and the Food Network for comment, it's hard to sympathize with Page, who seems bitter and eager to trash-talk the star he helped make. Fieri's regular-dude-who-likes-nachos-and-football persona helped him to become popular (although, as I've noted elsewhere, he still can't figure out how to do rock and roll devil horns properly), but it also falls in line with many stereotypes about white straight male behavior. If I were going to cast someone to play the cliche character of a Jew-hating homophobe, Guy Fieri might be the first person who came to mind. I don't want to throw the label "anti-Semite" around unbidden, but Page's story is definitely compelling – and believable.
Do you think Guy Fieri is an anti-Semite and a homophobe? Tell me in the comments.