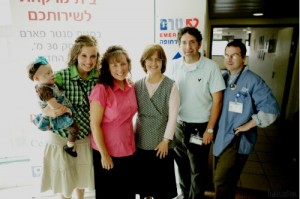 TLC's Duggar family, the stars of 19 Kids and Counting, recently took a trip to Israel. The trip will probably be shown during the next season of the reality show, but which parts will make it to air? Probably not the one where the family's youngest child, micropreemie daughter Josie, had to be taken to an Israeli hospital and escorted home by the doctor who attended to her.
Terem Hospital in Jerusalem posted on their official blog that Josie had been admitted there as a patient. (The picture at left shows Josie Duggar with elder sister Jill and mother Michelle, along with three Terem staffers.)
Though it's not clear exactly what happened to the littlest Duggar while in the Holy Land, she was born extremely premature and spent several months in the hospital before being permitted to go home. Since then, she has been under strict medical watch, even being briefly re-admitted to the hospital with reported breathing issues. The Duggars have been somewhat evasive when discussing their daughter's health on camera, but mother Michelle did say that Josie's "plumbing" needed to be fixed. The Terem blog doesn't state why Josie went to the hospital, but it does note that she spent several days there and was accompanied back to the United States by Terem's Dr. Moshe Halberstam. I think it's fair to say that if a child needs to be accompanied by a doctor, that doesn't bode well for her health status. Will we find out what happened to Josie next season on the show?
The Terem post concludes with "Refuah Sheleima!," which is normally translated in English as "A speedy recovery!" or "Get well soon!" Evidently, this means that Josie is still unwell and requires further attention.