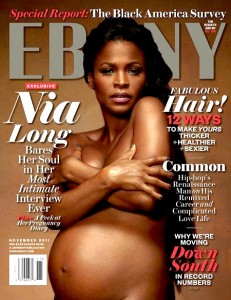 Actress Nia Long and her boyfriend, former pro basketball player Ime Udoka, are expecting a child later this year. But the road to pregnancy wasn't as easy as she'd hoped. Long – who already has an eleven-year-old son named Massai – struggled with infertility and thought she'd never be able to have a baby again. "I honestly asked God for this," she says in a new interview with Ebony magazine (where she appears naked and pregnant on the cover).
Although she was able to get pregnant at the age of 40, Long faced doctors and medical experts who told her the odds weren't in her favor. "You are not half the woman you're gonna be until you turn 30. You're not even half of that woman yet," she says. "So I think if we'd just take our time as women, and do what comes natural to us and for us, we would make fewer mistakes."
I basically just want to end this post with "word." So, yeah, word.