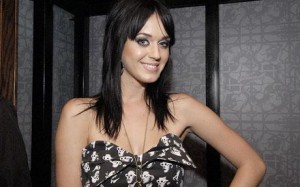 Last week, Katy Perry and Russell Brand's split was the divorce heard all over Hollywood. Some outlets claimed that the reason Russell was the one to file the paperwork was because Katy's religious parents (they're Christian ministers) don't believe in divorce and she didn't want to be seen as the person at fault.
Whether that's true or not, Katy's folks have been getting more publicity than usual lately. Her parents reportedly said that they were glad for the divorce because it caused more people to learn about their church and come to services there (at the end of that week's service they passed out samples of Katy's new perfume). And during a service this week, Katy's father, Keith Hudson [fun fact: in Katy's first attempt at stardom she was a Christian pop singer under her real name of Katy Hudson] said "You know how to make the Jew jealous? Have some money, honey. You go to L.A. and they own all the Rolex and diamond places. Walk down a part of L.A. where we live and it is so rich it smells," he said. "You ever smell rich? They are all Jews, hallelujah. Amen."
Though Katy hasn't directly addressed what her father said, she posted on Twitter "I want to be clear that NO ONE speaks for me. Not a blog, magazine, 'close sources' or my family."
I understand how Katy feels: it sucks to have someone who is bigoted in your family, especially when you're a celebrity and the ridiculous things your relative says can't just stay at the Thanksgiving table. It also puts her in the terrible position of having to denounce her own father or be lumped in with him and accused of racism. There's virtually no way to win this one.