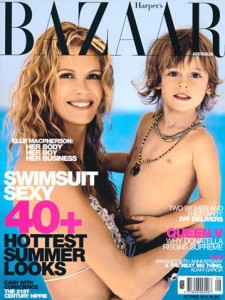 This morning, supermodel Elle McPherson went on Howard Stern's show to promote her new reality show Fashion Star. She mentioned that she has a big nude portrait of herself hanging up in her bedroom, and Howard asked if she thought that was going to make things uncomfortable for her two sons, who are now ages 9 and 14.
"No, I just think you're being absolutely Jewish," she replied.  Stern asked what the heck his comments had to do with being Jewish, so McPherson added, "you're being overprotective. "You sound like a nagging mother, 'Eleanor, should you have that picture in your room?' My children are very well-balanced."
Um, I didn't know overprotectiveness was limited to just Jews, or even just to mothers. But whatever you say, Eleanor McPherson.