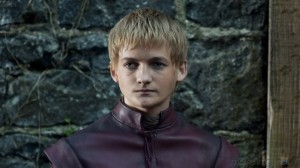 Jack Gleeson wears two hats: by night, he plays Prince Joffrey on HBO's hit show Game of Thrones, and by day he's an undergraduate at Dublin's Trinity College. Gleeson is majoring in theology and philosophy. Yesterday, Trinity announced that Gleeson was among the roughly 100 students chosen as "scholars." Among his future plans? Not acting. Gleeson has said that he might do some amateur local theater, but his heart is in scholarship. "I'd like to be an academic, a philosophy lecturer if possible," he said. "I'd do a Masters in Ancient Hebrew maybe, and a PhD hopefully, if I get in."
I'm glad to hear that Gleeson is way more levelheaded than his character. For those of you who don't watch the show, I made my boyfriend explain who Joffrey is:
Product of twincest. Sadist teenage king obsessed with pageantry and bloodshed. The review in the Times said, "If you look forward to Joffrey's scenes, there is something wrong with you."
Mazel tov and b'hatzlacha on the honor, Jack.