Vanna White, known for her years of turning letters around on Wheel of Fortune, is reportedly "devastated" that her 19-year-old son Nicholas Santo Pietro has become a member of the Hare Krishnas.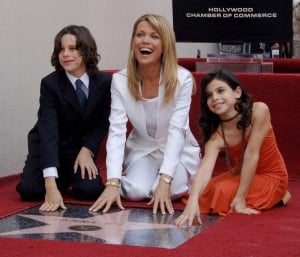 The National Enquirer reports that Vanna's son, who goes by the nickname Nikko (that's a younger version of him with Mom when she got her Walk of Fame star), got involved in the religion while a student at the University of Arizona. A
ccording to the magazine, Nikko has become devoted to a Liberia-born Hare Krishna leader and has been asking his parents (Vanna and her ex-husband, George Santo Pietro) for money. "She doesn't know what to do because she doesn't want to lose Nikko to this religious cult," the Enquirer quotes a friend of Vanna's. They also call the Krishnas a cult and accuse them of "brainwashing" members and stealing all their money.
Or, you know, maybe all that happened was that Nikko hit up a couple Hare Krishna meetings in order to get the free vegetarian dinner. Plenty a broke college student has done it before.