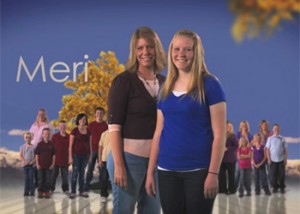 Update (9/5/2013): The person who tweeted the rumor about Mariah's tuition being comped contacted Faith Goes Pop and asked us to remove the tweet from this post. The tweeter wrote, "Mariah is a nice girl. I do not want to make her life harder because of a inaccurate and inappropriate rumor being spread." The tweet has been deleted from his/her account and also from this post.
On this season of Sister Wives, we're getting lots of contrast between the way Mariah Brown (oldest daughter, only child of first wife Meri Brown) gets treated compared to the way the other Brown kids get treated. While most of the Brown kids have been choosing to go to state schools in order to save money for their siblings, spoiled Mariah got to attend her top choice, Westminster College in Salt Lake City, even though it was way pricier than UNLV.
Now, a Westminster student is claiming on Twitter that Mariah's tuition was comped in exchange for free publicity.
If this allegation is true, it's incredibly sketchy – and possibly illegal.
The Sister Wives episode where Meri, Mariah, and dad Kody Brown visited Westminster did have a product-placement feel to it. The school was mentioned repeatedly on camera by name, and all three of them wore Westminster clothing in the episode. It's likely that the school offered a free place to stay during the campus visit or maybe some free food, but I'm pretty sure you can't offer to waive tuition in exchange for free PR on a reality show. Or maybe since they're private, they can get away with it?
Either way, let's just hope this is a dorm rumor. Because if I were stuck paying expensive private university tuition while my roommate got a free ride because her parents have a reality show, I'd be pissed.