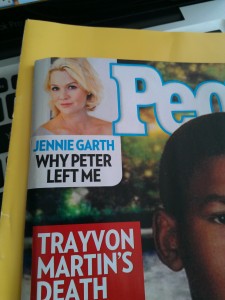 In this week's issue of People magazine, Jennie Garth is still talking about her divorce from Peter Facinelli. I was mildly bummed about their breakup but the sheer volume of headlines about this story on People.com ("Jennie: I don't want to talk about it anymore," "Jennie: "Well, since you asked, let me talk to you for seven hours") is making me not care anymore. However, I did pick up one interesting additional detail from the print article: Jennie converted to Catholicism when she and Peter got married, but now that they're broken up she no longer identifies as Catholic and calls herself "spiritual."
Although Jennie and Peter's oldest daughter, Luca, was born before they married, Peter apparently insisted that Jennie convert before they walked down the aisle.  They have two other daughters, Lola and Fiona, who all seem cute.
I'm sure there are other incidents of celebrities "un-converting" after a divorce, but I am jetlagged right now and can't think of anything other than Sandra Lee un-converting from Judaism after divorcing her former husband.