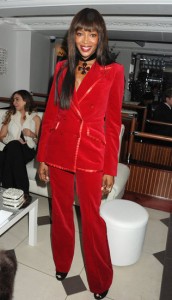 … and not just any church. The Church of the Nativity, one of the holiest sites in Israel.
Naomi Campbell is best known for being a supermodel and for treating her employees like shit, but since the whole throwing-a-BlackBerry incident she has been trying to clean up her image. That includes spending today, her 42nd birthday, in the Holy Land. "As much traveling as I've done, I've never come here. I'm happy to be here," Campbell said in an interview. "Weapons and war, greed and oil … I hope it all stops. I care about health, about good vibrations, not destruction."
While in Israel, she also visited the Western Wall in Jerusalem and enjoyed a traditional Palestinian dinner. She also wore designer clothes, had bodyguards, and traveled by caravan, lest you think she was some sort of common non-supermodel traveler.