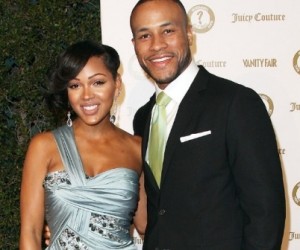 Actress Meagan Good, who is on Californication and has been in movies like Jumping the Broom, married DeVon Franklin last weekend. But celebrities get married all the time – what's so interesting about this one? Well, DeVon is an entertainment executive who also happens to be a Seventh Day Adventist preacher on the weekends.
Meagan said in an interview that she was inspired by her now-husband's beliefs, and that they chose to remain celibate until they were married. She once described her ideal partner thusly: "It would take someone who is spiritual and loves God. Someone who respects my mind and what I have to offer besides my physical appearance. Someone who actually loves other people and is connected to my destiny. This person has to be walking down the same path as I and want the same thing out of life."
Congrats to the newlyweds!