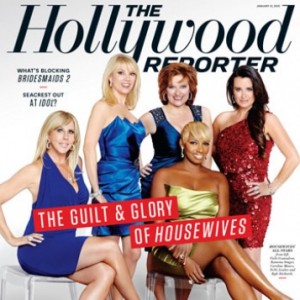 Love them or hate them, you can't deny that the Real Housewives franchise has become a huge force in our current pop culture scene. And while the women on the show never shy from discussing sex and politics, religion comes up far less rarely. Real Housewives of Orange County's Alexis Bellino is an outspoken Christian (her tagline is "I thank God for my life, and you would too"), and several castmembers from Real Housewives of New York have talked about being Jewish, although more in a cultural sense than a religious one.
However, a source tells the Christian Post that this might change soon. Bravo is reportedly casting women for a Real Housewives spinoff that would focus specifically on Christian women. The series would be set in Calabasas, California, a Los Angeles suburb not far from Rick Warren's Saddleback megachurch (which Orange County housewife Gretchen Rossi attends). The ad says that Bravo is looking for "accomplished and upscale women in the Calabasas area who have fabulous lives, are very social, are involved in the community, but also have a very deep commitment to their faith."
Personally, I'm still holding out hope for a Texas edition of Housewives, but I'd definitely watch this one if it addressed actual faith issues instead of keeping them in the background or using them as plot devices.