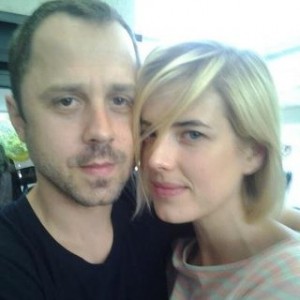 When model Agyness Deyn married actor Giovanni Ribisi got married in June, most people – including Ribisi's longtime girlfriend Cat Power – didn't even know they were together. Because Ribisi is a lifelong member of the Church of Scientology (his twin sister Marissa Ribisi is married to Beck), that made me wonder whether Deyn was now a member too.
Apparently, I wasn't the only curious person.
The Evening Standard asked the model
if she was now a Scientologist. She said "No," but then quickly backtracked, adding, "That's the whole thing. You meet someone and you fall in love with them … Like, I'd go live in a tent if I had to with him." When flat-out asked if she was being brainwashed, Deyn replied, "But it's kind of like, brainwashed to what? The people who are saying this, have they ever read a book? Do they all know what it's about?"
While Deyn claims she isn't a Scientologist, asking people if they've read books and asking them what they know about Scientology is straight-up classic Church member behavior. Actress Jenna Elfman once heckled a man in an anti-Scientology T-shirt by demanding to know what crimes he had committed. Good luck with the tent, Aggy.