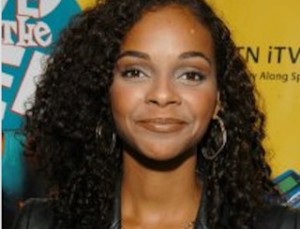 Lark Voorhies, better known to a generation as Lisa Turtle from Saved By the Bell, has stayed out of the spotlight in the last few years even as her former coworkers continue to get work. One of the reasons she has kept a low profile might be that she's dealing with bipolar disorder. That's a claim made by none other than Lark's own mom, who says that Lark often stares off into space and talks to herself. Lark denies the claim, saying that in such moments she's actually praying.
"I have a strong spiritual sense," she told People magazine. Lark was raised a Jehovah's Witness, and she reportedly quit her job on the soap Days of Our Lives because she didn't feel comfortable in sex scenes.
I'm giving Lark the benefit of the doubt here. Wouldn't you be mental if you had to spend years working in close quarters with Dustin Diamond? And remember when she was engaged to Martin Lawrence and he announced on live TV that he was breaking up with her? I kind of want to buy her a milkshake and a kitten.