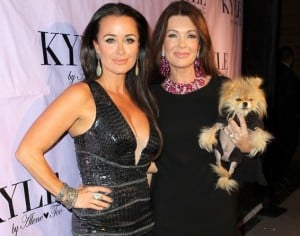 How do you know when two Real Housewives are having a feud? One of them doesn't get invited to the other one's kid's bat mitzvah.
Ex-besties and Real Housewives of Beverly Hills costars Kyle Richards (left) and Lisa Vanderpump (right, with Giggy, the best character on the show) are apparently feuding this season.
One sign of their breakup: Kyle didn't invite Lisa to her daughter Sophia Umansky's bat mitzvah. Supposedly the two women are fighting about whether Lisa is behind rumors that Kyle's husband Mauricio Umansky is cheating on her.
Kyle and her sister Kim Richards (who is also on the show) were both successful child actresses. Kyle converted to Judaism to marry her husband, whose family are Eastern European Jews who settled in Mexico and then moved to LA. Although Kyle did a traditional Orthodox conversion, her own tastes lean a little more toward Hollywood-style Kabbalah.
In case there was any doubt, Sophia's bat mitzvah was filmed by Bravo for the show. So this whole story is probably just PR for the new season.