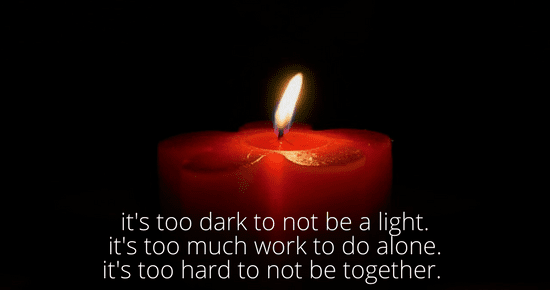 We wrestled with church for a reason.
We left church for a reason.
We despise what so much of church has become for a reason.
The weekend's events in Charlottesville have stirred up deep and painful feelings in so many of us. 
The reality of the pervasive connection of Christianity to such hate.
The divide between Progressives and Evangelicals getting wider.
The uncovering of what's been there all along.
The awakening of white supremacy's stronghold in every aspect of our lives.
The brutality of our blindness.
I haven't had space to write but my soul has been so heavy.
Burdened with the magnitude of the hate.
Outraged at our political administration.
Exhausted by the deflection that is a textbook first response of those with privilege.
Confused on what is a good next step when there are countless ways to engage.
You might feel the same way, too.
On Sunday at The Refuge, the wild and beautiful Christian community and mission center I am honored to be part of, I was buoyed by being together with my friends, my brothers and sisters, standing in solidarity and hope. This little pocket of love is so good for my soul and has sustained me for 11 years now, when everything I once believed started coming apart.
It's made me think about all the folks I know who have unraveled in their faith and are finding their way forward.
Of the deep longing in our souls that we couldn't ignore anymore.
The desire for justice and peace-making that we couldn't shake and our anger at what we'd experienced in church as usual and how scared our churches were to address it for fear of losing money and people.
The hope that everyone would be welcome at the table and our sadness at how few really were.
The passion for people, for healing, for restoration, for real transformation and the painful reality that programs were made more important.
The knowing-deep-in-our-hearts that the kingdom of God never looked only all white and middle class and neat and tidy but realizing that's all we were sitting next to.
The stirring to tangible love, to standing alongside the marginalized, to faith in action but instead being distracted by the inside-the-4-walls work of the church.
The call of Jesus for freedom and equality ringing in our ears while we were singing songs with words that started to make no sense to us.
The church we long for doesn't look like much of what so many of us have experienced.
People have told us that's because we expect too much or the church is made up of imperfect people or we're unrealistic or we're angry and rebellious and divisive.
Today I just wanted to acknowledge that the church so many long for isn't unrealistic.
It isn't too much to ask.
It's the way it should be.
It's the way it can be.
It's what I believe Jesus always had in mind.
It's what the world needs right now.
Spaces and places and communities that
Have no walls
Exist around tables
Thrive in the streets
Make equality normal
Remain unafraid to call out injustice
Honor messiness
Fuel hope
Address exhaustion
Expand our view of God
Empower us to act
Challenge our privilege
Restore dignity where it's been lost
Love questions
Heal brokenness
Make us brutally uncomfortable
Help us learn all the things we never learned after years (and decades) in Sunday School and Bible Studies and Sunday services.
Despite the deep ugliness we are in the thick of right now in our nation, the church, I love seeing people find what they've longed for in far more creative ways than ever.
In unexpected pockets of kindred spirits.
In small clusters of activists and organizers.
In classes and healing groups.
In churches that honor our core values.
In art and music and nature and service and activism and contemplative practices with other people who are stumbling and bumbling and seeking wholeness too.
I also know there are so many others feeling untethered, lonely, the longing unmet.
Honor the longing.
It's possible.
Be part of creating these kinds of spaces.
Be part of sustaining these kinds of places.
Be part of cultivating the church you long for in ways that many people might not call church.
It's too dark to not be a light.
It's too much work to do alone.
It's too hard to not be together.