As one commentator wisely noted, when I say that Obamacare fails to get Gods vote in Part 1 of this series, I don't mean that God actually has to show a photo ID to cast a ballot. I do mean that the Just Judge of all men is taking notes. I concur with Franklin, the non-believer ironically, that God governs in the affairs of men.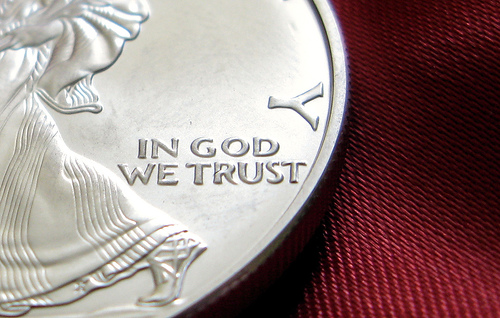 Since it's only day two of my hanging out with the awesome writers at Patheos, I'll point to my home site for those who want to know more about me for now. My latest project is here. My passion is connecting real life with real faith.
And enjoying every minute of it. Alright, I confess. Some minutes are occasionally less than enjoyable. But not for long.
My first post suggested the first of five reasons that Obamacare fails to get God's vote. Subscribe now to the right to make sure you don't miss any.
The first reason why Obamacare fails to get God's vote is that God requires rulers to keep their covenant with the people. It is an argument from tautology. The Constitution is the covenant agreement between us and our leaders. If they do something unconstitutional, they have broken the agreement. Breaking agreements is frowned upon by God. Easy enough.
Here's the second reason:
2.  God rewards those who put their trust in Him.
Where is our trust? We really can't get more real life than with our health care. It's easy to say we trust our Maker, but illness tends to expose our real hope for strength – for better or worse. Psalm 118:8 presents us with a distinct choice: "It is better to trust in the Lord than to put confidence in man." It's not that we can't have any confidence in other people. Certainly not. We were made to be interdependent creatures. But as the late great Charles Colson said, "Where is our hope?"
Should our trust ultimately be in – as Augustine memorably put it – the City of God or the City of Man? The Biblical answer is evident in but a few of the hundreds of possible texts:
In our haste to find solutions to practical problems such as health care for those in need, we must be ever wary not to follow our natural fallen tendency to put our confidence in ourselves. Because that's what government is – just us, with power derived from the consent of the governed.  Also us.
What could possibly go wrong?
Obamacare lays the groundwork for a nearly infinite expansion of governmental control – the City of Man.  As Justice Scalia sagely inquired during oral arguments, what would stop the government from requiring us even to buy broccoli? Unlike President Bush 41, I like broccoli. Have some growing nicely now in one of my many gardens. But that's hardly the point. The question is have we given up trusting in God for our national guidance and ultimate security and instead chosen to put our confidence in His creation? People no more wiser than we ourselves? Ask those closest to you how often that trust doesn't work out.
Government is simply concentrated power entrusted to the frailest of hands. As such, it should be the last place we put our trust.  Given our natural bent toward self-interest and greed, we will most often choose the path of least resistance rather than the path of true morality. Is that where we want to put our trust as a nation? In ourselves?
What happened to "In God We Trust"?
God rewards those who put their confidence in Him.
We don't have to like it. But we do have to live with it. "Know that the Lord, He is God; It is He who has made us, and not we ourselves; We are His people and the sheep of His pasture." (Ps. 100:3 NKJV)
NEXT: Why Obamacare Fails to Get God's Vote (part 3)
Do you agree that Obamacare shifts our trust significantly toward government instead of toward God?  Leave a comment below to engage the conversation.