Worship Week nears its end with our final guest post of the week on Bill in the Blank at Patheos. Today's post comes from Josh Brahm, a writer and speaker with Right to Life CA, a podcaster, and part-time worship music leader. You can connect with him via Facebook.
Today's guest post is a response to Why I've Stopped Singing in Your Church: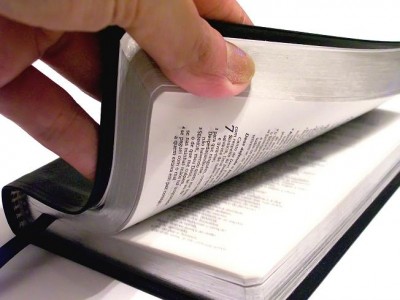 As a young worship leader, I have a lot of common ground with Bill's article on worship. In fact, some of the hallmarks of the way we do worship music at my church are decisions that were made because I reacted negatively to some worship experiences in my past, both working with small church bands as well as with some well-known Christian artists. Most importantly, I knew we weren't going to have a band full of guys wanting to show off their guitar solo ability while faking a connection with God.
In contrast, I also had positive aspirations for what I did want. My pastor and I modified a document on gospel-driven worship philosophy from a few other churches, and those define what we believe about worship music.
I think it's interesting that so many readers responded to Bill's excellently written piece with questions about what we should do instead.
I'm going to describe a few things that we do in our services in hope that it offers some food for thought for other Christians who are trying to figure out how to balance all the details that aren't specifically laid out in Scripture. (Give me a reference for the verse that says, "Thou shalt not sing more than one Chris Tomlin song on Sunday.") Many of these decisions have to be based on prayer and wisdom.
Song Selection
We generally sing five songs per service: three at the beginning of service, and two at the end. We would do more, and have on occasion, but our pastor preaches great 45-60 minute sermons. We don't end with only one song because I think it's really important to take time to respond to the sermon and communion. (Yes, we partake in communion every Sunday. That doesn't make us better Christians than you. It's just one important way that we keep the work of Christ central. We try to do the same thing in our songs.)
Out of those five songs, I'll usually pick two older hymns for their substantive lyrics, two modern songs that are from the best of recent "simpler" songs, (this also helps to unite old and young in our service,) and one that falls in the middle. We've done a lot of songs from Sovereign Grace Music, and I'm super pumped about the Austin Stone CD I just got. Their website is a gift for worship leaders, with written theology about each song.
Arrangement
Some hymns we keep very traditional musically. "And Can it Be," "Be Thou My Vision," "Come Thou Fount," "Holy, Holy, Holy," "How Great Thou Art," are some examples. We also do some modern versions of hymns, like Shane and Shane's version of "Before the Throne of God Above," Tomlin/Redman's version of "The Wonderful Cross," and of course, Kristian Stanfill's version of "Jesus Paid It All." When we sing "Amazing Grace" we sometimes add Tomlin's new chorus, and sometimes we don't. For some people in our congregation, the Tomlin version is their favorite worship song we sing, while for others, adding the Tomlin chorus turns it into "a hybrid, not a hymn."
I try to arrange our musical dynamics to highlight the lyrics. We're not the only worship band to emphasize the "lightning and thunder" in the second verse of "Indescribable," but there are many other lyrics we've chosen to highlight, especially in hymns, because we want people to connect with the words in new ways, even if they've sung that same song for decades.
I'm hoping to record some of these arrangements one day, to give other worship leaders some ideas for making these songs fresh, even when they've only got an acoustic worship band like we do.
Substantive Lyrics
Some worship leaders don't want to choose older hymns that take a little brain power to comprehend the multi-syllable words they're singing. I disagree. I believe that people should be learning theology while they sing. This is one of the ways that we should be equipping the saints for works of ministry. Remember, it's one of these songs that will often be stuck in the congregant's head on Sunday afternoon, not the key point in the sermon.
There are some hymns that are hard for people to understand because there are words in them that aren't used anymore. We, as worship leaders, should explain what certain words mean. An obvious example is "Come Thou Fount." Every year or two I take a few minutes at the beginning of the service and explain what this song means, line by line. I doubt your entire congregation knows what is meant by "flaming tongues" in the context of this song, not to mention words like "ebenezer," "fold of God," "interposed," and "fetter." I encourage you to explain those lyrics so that people will sing them with more faith.
A Learning Process
We regularly get comments from people in our congregation who confess they "used to hate hymns, but now love them." Part of that is because we don't play them with a pipe organ and block chords, and part of that is because sometimes the congregants are learning what these songs mean, sadly, for the first time.
Lord knows, I still have a lot to learn. The writings of Gary Molander and Bob Kauflin have been a great help to me, as have the free audios from the Worship God Conferences.
Ultimately, our job is to help people respond to what God has done for us in joy and reverence. What a privilege it is to be a part of that process, even though we may ultimately learn one day that we occasionally picked songs that were too simplistic to be useful, or songs that sound like Top 40 hits, or songs with one too many repeats in it. Amazingly, God works through our blunderings, and I get to watch people become closer to their Sovereign while learning more about Him.
That's pretty cool.
What do you think of Josh's plan for worship music in his church? What's a key takeaway you can apply to your own church setting? Leave a comment here to help us all grow!
Last chance to subscribe to this blog by midnight, August 4, to be eligible for a free book Desiring God by John Piper. The chapter on worship alone is worth the time to enter your e-mail address in the upper right.