My back hurts. Sometimes.
It's part of the price I pay for being taller than most people, I suppose. I've learned to to live with it. Regular stretching, good posture habits, and frequent strengthening excercises keep me limber enough to keep moving forward. But it is what it is — a weakness.
I've noticed something. My back hurts most when I try to hide my weakness.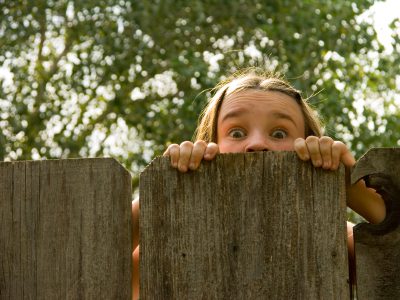 The thing about my back pain is that it often comes from staying in the same position for too long. So if I'm sitting or standing in the same position fora while, my back starts to let me know that it doesn't appreciate it. Yet — and here's the silly part — I'm often reluctant to stretch, bend, or flex my back in public so I can keep my weakness hidden. How stupid is that!
To Hide My Weakness
A few months back (no pun intended), I flew to Guam to launch leadership training conferences in partnership with Equip Leadership, Inc. founded by John Maxwell. During one of the 6-7 hour flight segments over the Pacific Ocean, I really wanted to get up and stretch in the aisle. Yet something kept me from doing it fully. Oh, I did stretch a little, but not to the extent I wanted to. Why not? I think it was because I didn't want the other passenegrs to know about my weakness.
Most likely I was afraid of what they might think of me. Now, when I think of it rationally, it seems rather silly. What are the odds someone is reading this now who was on that flight with me and is now thinking, "No way! That's that tall, goofy-looking fellow that was stretching on the plane over the Pacific Ocean that one time! I'll bet his back must hurt him sometimes. What an idiot!"
I doubt it.
Now as I write it, it sounds incredbily silly. I'm tempted to hit the old backspace key a few times. But my stupidity serves to make a point — often the worst part of all our efforts to hide our weakness is that we find out later that no one was really watching us after all. I could have stretched and no one would have cared.
I'm not so sure any of us are all that different though. We all have weaknesses. Few of us like having them noticed. I'm not talking about moral weaknesses, or sin, if you will. But we all have some weakness from living in a fallen world. Some may be physical, like mine, but others may be intellectual, or emotional. Whatever it may be, think about how much energy you spend trying to keep anyone from finding out too much about it.
To Celebrate Our Weakness
What if, instead, we gloried in them? You know, like Paul:
Of such a one I will boast; yet of myself I will not boast, except in my infirmities [weaknesses]…. And lest I should be exalted above measure by the abundance of the revelations, a thorn in the flesh was given to me, a messenger of Satan to buffet me, lest I be exalted above measure. Concerning this thing I pleaded with the Lord three times that it might depart from me. And He said to me, "My grace is sufficient for you, for My strength is made perfect in weakness." Therefore most gladly I will rather boast in my infirmities [weaknesses], that the power of Christ may rest upon me. 1Therefore I take pleasure in infirmities, in reproaches, in needs, in persecutions, in distresses, for Christ's sake. For when I am weak, then I am strong. (2 Cor. 12:5-10)  [emphasis mine]
There is, apparently, a strength that comes to us when we acknowledge our weakness.
Only when we admit we are truly weak can we rest in the One who makes us truly strong. [Tweet this!]
It's when we pretend to be strong that we become truly weak. All that wasted energy saps our strength and distracts us from truly living.
Why We Don't Want Anyone to Know
If we all have one, why don't we want people to know about our weakness? There might well be a lot of reasons for that. See my posts 5 Reasons We Choose to Not Speak Up and How to Stop Lying and Speak the Truth — to Yourself for some of those answers. The reason that seems the most likely culprit? Sharing a weakness makes us vulnerable. It exposes us to something even more painful — ridicule or rejection. The truth is we fear people too much.
But that's why Proverbs says that the fear of what people think is a trap. We strain so hard to achieve the approval of others, but the approval of others is always a fickle target. Just when we think we've nailed it, it moves. Yet still we try desparately, only to later discern the painful reality that no one was paying attention to us in the first place. Ouch.
Take the Weakness Challenge
Here's a challenge for the coming week to help you begin to let your weakness give you strength:
Identify the weakness you often try to hide. Shouldn't be hard. You're likely feeling a little guilty about it right now.
Be intentional about sharing that weakness to three people who don't already know about it. You don't have to make it into a therapy session. Better that you don't.  Just look for an opportunity to casually talk about it within the context of a conversation. No bumper sticker needed.
See if your world ends because you revealed a weakness. Chances are good the other person will actually respect you more because of your candor. A door just may open for them to share a weakness of their own and to deepen the relationship.
Then report back (sorry, couldn't help it!). Your story may be an encouragement for others to embrace their weakness as an opportunity to show God to be their strength.
Now, if you'll excuse me, I need to go stretch my back.
What weakness do you often try to hide? Share your story here with a comment so we can all grow with more abundant faith.