Essential.
The Catalyst Leader: 8 Essentials for Becoming a Change Maker
by Brad Lomenick, CEO of Catalyst, releases this coming Tuesday, April 16, 2013, from Thomas Nelson Publishers. And I can think of no better word to describe it than what it claims to be.
Essential.
Here's Why
In The Catalyst Leader, Brad pulls back the curtain on the inner working of Catalyst to reveal the eight essentials that have made Catalyst the premier leadership conference provider for young leaders today. But instead of some leadership wizard with a hauntingly, maniacal laugh, you'll find a humble, incredibly hard-working leader of a passionate and gifted team of young leaders who do whatever it takes to move the cause forward – to be a catalyst.
Instead of heady leadership jargon repackaged to sell a book, Brad and his team share the day-to-day, practical stuff of which all of our leadership journeys are made. Full of authentic tales of his own journeys from shoveling manure to breakfast at the White House, Brad humbly reveals the keys to his team's success – and what he has learned from his own failures.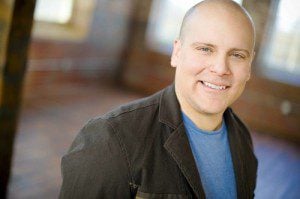 You'll finish the final chapter feeling as if you just finished a conversation with someone genuinely comfortable with himself, a rare find in our celebrity-driven culture. I'm betting you'll especially enjoy the time when he stripped down to – well, let's just say that story alone is worth the price of the book right there.
You'll chuckle, you'll nod, you'll wince a bit here and there as you relate to his mistakes and uncover your own. But at the end of it all, you'll hear his heart and that of his team as they say to you, "Come on. You can do this. So grab a shovel and let us show you how to lead well. Lead now."
The 8 Essentials of a Catalyst Leader
Those who like structure will love the considerable thought that went into the eight essentials in The Catalyst Leader. Those who enjoy research and hard data will love that Brad partnered with the Barna Research Group to probe the minds and hearts of young leaders in a "Today's Christian Leaders" study that he references often throughout the book.
Here's a quick survey of the eight essentials and a tiny taste of the wisdom you'll discover in each of them:
Called. Finding our calling and developing our strengths is not something we in the Church do well. My recent interview with Brad delved a bit deeper into this topic. As Brad puts it, "Leaders who make the biggest impact also have the strongest sense of calling." [ Tweet this! ]
Authentic. I could not think of a better person to write on this topic. As someone who routinely engages many of the bright lights in leadership today, it would be easy for Brad and the team to try to seem something they are not. But as Brad transparently reveals, "In the new economy of leadership authenticity rises to the top." [ Tweet this! ]
Passionate. "Everything we touch should bear the sooty fingerprints of our fiery zeal for God." [ Tweet this! ] Brad makes a compelling case for why a leader's relationship with God drives all else.
Capable. Those who have attended a Catalyst event already know that excellence has become synonymous with the Catalyst brand. But not by accident. In fact, their commitment to it flows from their passionate pursuit of God. As Brad puts it, "It's a matter of stewardship. If we believe we are called by God to do the work we do, then we bear the responsibility of doing this work with an unrivaled standard of excellence."
Courageous. Success requires taking risks, appropriate risk as he described it in his interview with me, but risk nonetheless. Not surprising, says Brad: "Those who follow a god-sized calling need God-sized courage." [ Tweet this! ]
Principled. Developing discipline in your life before you need it is essential to any leader's success. Here's how Brad describes this pursuit of getting rock-solid on what matters before you are called onto the field:
I tell leaders all the time, especially those younger and equally ambitious, to become experts now, even before they need to be. Part of being a disciplined leader is being ready. When it's your turn to come off the bench, when it's your turn to give your opinion and offer advice, when it's your turn to lead the project, you can step in and make it happen. Act, lead, dream, create, and deliver based on the job or position you want next, not the job or position you have now…Demand perfection from yourself before anyone else ever demands it from you. (141)
Hopeful. Tackling tough assignments with a disciplined approach just isn't enough. One essential of a Catalyst leader is to prime the emotional pump. As Brad puts it, "When you give people a reason to believe that tomorrow can be better than yesterday, they'll be inspired to make the most of today."
Collaborative. I confess this chapter excited me the most as someone who would describe myself in one word as a Connector. Brad tells plentiful stories of how the Catalyst team builds bridges, not walls – but does so wisely.
The Target Audience
Some of the content felt as if I were revisiting stuff I already knew. But then it hit me – I'm getting older. Ouch. It shouldn't surprise me to encounter good stuff I've encountered before. On top of that realization was fact that the mission of Catalyst is to equip the next generation of leaders.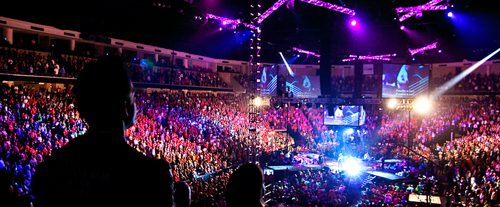 That being said, there was still plenty for me to learn from the book as Brad offers something for everyone at all levels. For veteran leaders, his voice of experience gives a valuable perspective. For young leaders, his plentiful tips point the way. And for leaders of teams looking for a terrific resource with which to engage the leadership conversation as a team, The Catalyst Leader is the perfect tool for a retreat or an ongoing discussion.
Progress in the process creates possibilities. ~ Brad Lomenick [ Tweet this! ]
I predict The Catalyst Leader will quickly become a standard on the desks of leaders both young and old. And it will likely stay on your desk to be used often and not retired to the dusty confines of a corner shelf.
Not if you really want to be a change maker, that is. For those of us who want to be a catalyst leader, who want to change our world now, I can think of only one word to describe Brad Lomenick's book.
Essential.
Social: Follow Brad on Twitter and Facebook and the @CatalystLeader and CatalystSpace blog. Get $500 in free resources if you purchase the book by April 21.
Don't forget to grab a copy of my e-book Finding the Curve: The Secret to Explosive Personal Growth — a fun yet penetrating read, absolutely free for a limited time. Just click here.
Subscribe via e-mail in the upper right to get equipped to think, live, and lead with abundant faith.