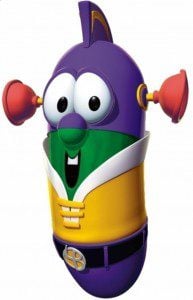 I believe that God has created each of us to be better at some things than others. It's a simple truth that, if embraced, changes how we teach our kids to put their strengths to work. Lately, I've taken to referring to it with our kids as discovering our superpowers.
For one thing, we actually get intentional about discovering our own strengths so we can model the process for them. [ See my post 5 Resources to Now Discover Your Strengths ] For another, we get intentional about helping our kids uncover their own unique talents and seek out venues to put them to work.
A Faith-Based No-Brainer
As Christians, this quest should be a top priority because it's a matter of sound stewardship. Jesus made his take on it pretty clear when he castigated the fearful servant who refused to put his master's talents to work.
Our discovery of our children's strengths and general life calling doesn't mean we ignore the essentials of our faith in Christ. Loving God and loving others is and always must be the focus of our lives. But I can think of few better ways to show our love for God and others than by uncovering how He has made us and then putting those strengths to work to help others.
The very body of Christ is built on this principle, after all. God has given a variety of gifts and talents so that the body, knit together may function at its best:
And he gave the apostles, the prophets, the evangelists, the shepherds and teachers, to equip the saints for the work of ministry, for building up the body of Christ, until we all attain to the unity of the faith and of the knowledge of the Son of God, to mature manhood, to the measure of the stature of the fullness of Christ,  so that we may no longer be children, tossed to and fro by the waves and carried about by every wind of doctrine, by human cunning, by craftiness in deceitful schemes. Rather, speaking the truth in love, we are to grow up in every way into him who is the head, into Christ, from whom the whole body, joined and held together by every joint with which it is equipped, when each part is working properly, makes the body grow so that it builds itself up in love.   (Eph. 4:11-16) [Emphasis mine]
Unfortunately, we all still struggle. And Christians are no exception.
A recent study by The Barna Group in conjunction with the Catalyst leadership organization reveals that Christians struggle greatly to figure out their strengths and calling. Only 34% of Christians said they feel called to their current work. Perhaps most revealing was that among respondents over 40, the percentage actually went up slightly.  [ The full study can be found in Catalyst CEO, Brad Lomenick's forthcoming book The Catalyst Leader: 8 Essentials for Becoming a Change Maker
.]
When Our Powers Aren't Visible
What makes it even more challenging for us and our kids is when we have strengths that aren't easily discoverable. Children with physical skills may find an easy fit on a soccer field or basketball court. Those with musical inclinations can more easily find their way. Singers get voice lessons. Mechanics get tools. You get the idea.
But what of those kids who excel in the soft skills, people skills, those intangible talents for which no clubs and teams really exist in middle school? In my recent interview with Brad Lomenick, he put it this way:
There are the folks who are doctors, great surgeons in the sense that they are craftsmen or craftswomen with their hands. They're able to do things in delicate ways. Others look at a surgery and say, "I could never do that!" Or somebody who hits a tennis ball, or plays an instrument — those are easier to discover. But somebody might say, "Well, I think I'm really good at business." OK, well what does that mean? [ Catch the entire interview here at FaithWalkers starting tomorrow! ]
Given that confusion, many of us simply follow the paycheck and perceived security that comes with it. In my own journey, I remember that when I wanted to marry my then beautiful fiance (she's still beautiful, by the way), my father-in-law rightly insisted that I have job with health insurance. So I moved from small-business retail management into the big-box realm to open a store for Target. It was not what I was called to do with my life, but it did the job. And I got a lot of clearance candy.
Two years later, I left what promised to be a lucrative career track in retail management to focus on writing, teaching, and leading in the education direction. I was still working through the process of understanding my strengths. Now, I can say confidently that I am at my best when I am creatively questioning, connecting, and communicating within the context of my beliefs.
Be yourself. Everyone else is already taken. ~ Oscar Wilde [ Tweet this! ]
Find Your Superpowers
I've begun taking a bit of an unorthodox approach to talking to my kids about their strengths. Instead of using the words strengths or talents all the time, I've begun talking to them about their superpowers. My younger ones especially seem to connect with this approach.
It may seem a little far afield, but it's not by much. Each us is better than most at some thing, perhaps even having the potential to be the absolute best in those areas of our greatest strengths. If only we can identify them and develop the cultivate the discipline to develop our gifts for the Kingdom of God. Imagine the possibilities of what that body of Christ could accomplish when led by His Spirit!
My six-year-old, for example, is a vivacious people-person. A fidgeting ball of energy, he has only one speed — very fast. His frenetic extroverted attempts to connect with and love on the rest of the family can cause quite a bit of friction in a family of introverts. It doesn't help that he's child number five out of six, trying to carve out a place for himself.
When he began complaining recently about how he wished God hadn't made him this way, I began talking to him more intentionally about his superpowers. From there, it was an easy step to Larry Boy's Veggie Tale mantra, "With great chocolate comes great responsibility." Now we talk frequently about his need to both celebrate and control his superpower so he can be at his very best in way that helps those around him.
The world, the body of Christ, and our family need his strengths — he gives the best group hugs as he naturally pulls people together with tremendous passion. I love Joseph Campbell's advice on this: "What is it that makes you happy? Stay with it no matter what people tell you." [ Tweet this! ]
But No Capes!
Try it out for yourselves on your kids. Try talking to them about their superpowers. See if they connect a bit more with the whole strengths discussion. I would leave the cape out, though. We know what happened to Thunderhead:
And look for the compelling interview with Brad Lomenick on the topic of life calling here tomorrow. It's a good one. Subscribe via e-mail in the upper right to have it promptly delivered to your in-box.
Leave a comment below with your thoughts on my superpowers approach or with your own tips on how to teach kids to put their strengths to work.