If you haven't heard by now of Duck Dynasty, the hit reality show on A & E, you may not be all your quacked up to be.
Sorry. Couldn't resist. Just put it on my bill.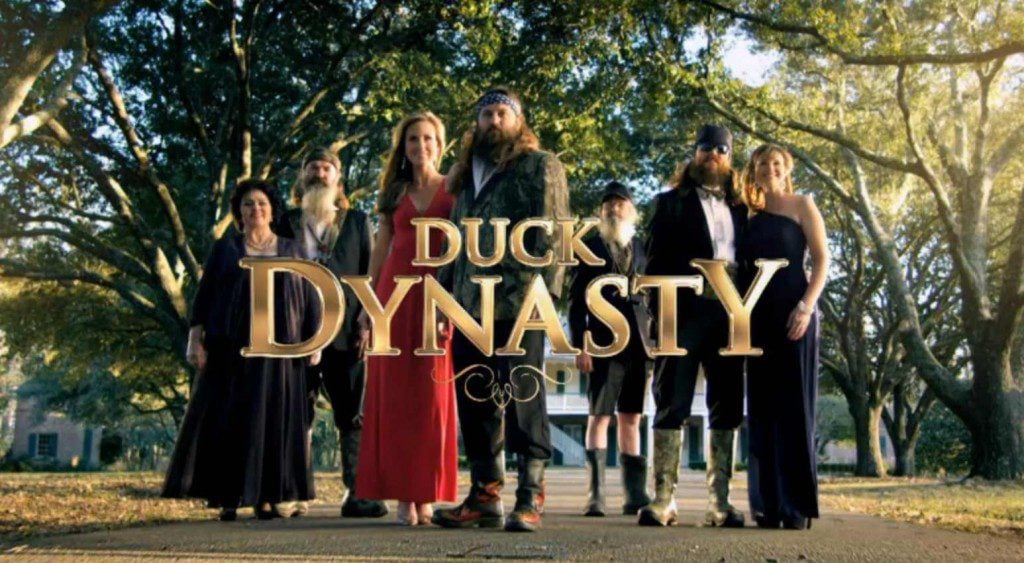 According to the AP (via Huffington Post), A & E says nearly 12 million people watched the premiere of season four last Wednesday, making the episode the number 1 non-fiction series telecast in cable history in total viewers as well as all key demographic groups. Check out the A & E site here for the next show on Wednesday nights at 10 Eastern.
Even if you've never seen an episode, you've probably seen the merchandising. Everything from outdoor wear to eyeglasses to underwear seems to have the Duck Commander logo emblazoned on it these days. Of particular interest to readers here is the Robertsons' unabashed discussion of their Evangelical Christian faith, its impact on their family trajectory, and on the gospel of Jesus Christ as their ultimate motivation. See Phil and Kay talk about it here:
Even Phil Robertson's latest book Happy, Happy, Happy: My Life and Legacy as the Duck Commander
has topped the NY Times bestseller list. (Full of practical wisdom and faith it, unfortunately,(IMHO) fails to capture Phil's unique voice.) His son Willie's first book offering The Duck Commander Family: How Faith, Family, and Ducks Built a Dynasty
also put the focus squarely on faith and family as the primary reasons for their success.
But what makes the show so popular? Why all the fuss over a bunch of "trashy rednecks" (as one Twitter critic called them) blowing a bunch of money on various (mis)adventures in the Louisiana bayou?
Like most cultural phenomenons — think The Beatles — this one's likely too big for any of us to fully explain. But as a Christian father of six kids and writer with a business and ministry background, I'll give it a shot — buckshot, that is. (It gets worse. And that's a fact, Jack!)
Top Ten Reasons Duck Dynasty is Popular
Funny. Sometimes, it's downright laugh-so-hard-you-fall-off-the-couch-hilarious. But only if you can laugh at yourself. If you take yourself too seriously, Duck Dynasty might not work for you. Elitism and duck calls don't seem to go well together. But in a world full of terrorism, crushing national debt, and other serious stuff, Duck Dynasty gives us all a chance to laugh at reality — and, vicariously, at ourselves through the Robertsons. Yes, ultimately I think we see ourselves behind their beards or fancy dresses. Or both in Si's case.
Exceptionally well produced. Usually stuff like editing and production wouldn't get noticed, but with Duck Dynasty, I think it's the difference between so-so and Wow! The production value is simply superb. The editing of camera shots alone produces almost half the laughs as cameras cut from commentary, to action, to a simple look that says more than any line ever could. If you don't believe me, pick up a copy of the Season Three DVD and watch the deleted scenes raw footage. It's just not the same.
Family. The classic saying, "The family that prays together, stays together" has never been more evident than with the Robertsons. Where else on TV can you see a multi-generational family staying together, enjoying one another's company in spite of each member's imperfections? In a society in which the family is disintegrating and fathers are often AWOL, the Robertsons model something very different with Phil and Kay's marriage still going strong after 48 years.
Prayer. And while we're on the topic, perhaps the most significant impact Duck Dynasty will ultimately have on our culture is the typical final fifteen seconds of every show spent in prayer over a meal. In short, they're making it cool once again for families to eat together and pray together. It has been awhile (maybe back to Mayberry?) since popular television celebrated such things.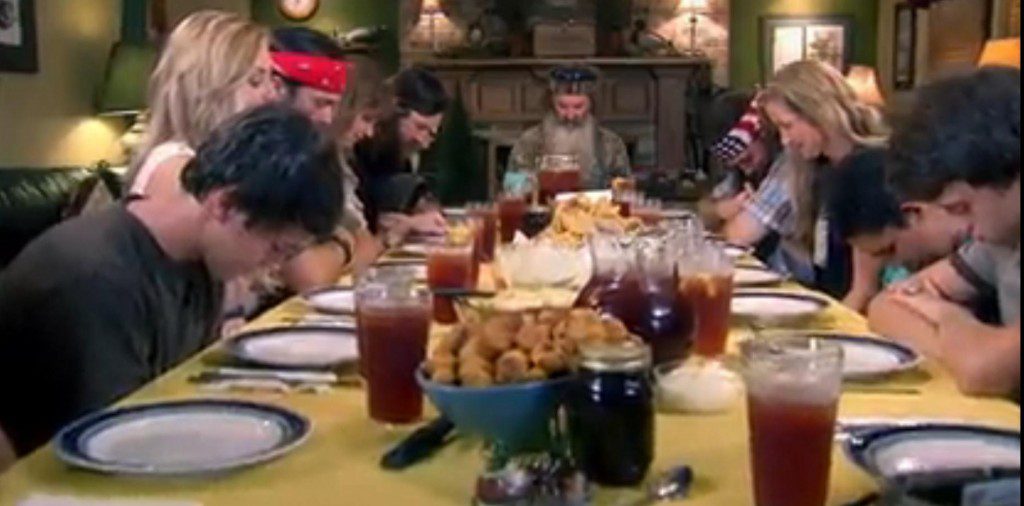 Faith. Duck Dynasty is giving people of faith a chance to be part of something cool. Let's face it, a lot — but not nearly all — of their support is no doubt coming from people of faith and Evangelical Christians in particular. But the Robertson's are not in-your-face about their faith on the show. In fact, they seem like real people (as evidenced from the occasional bleeps and their straight talk about sex) living out their faith as imperfect people in an imperfect world. They don't claim to have it all figured out. Kind of like it should be for all of us followers of Christ. And being set in the South where faith is still normal certainly helps.
Authentic. I know it seems strange to describe a reality TV show as authentic. I don't mean that some of the stuff isn't planned. The total lack of any camera equipment in any shot — ever — proves there's some intentional staging going on. By authentic I mean that the audience detects an authenticity to the characters. They are who they are, both on and off camera. When you watch, you get the sense that Si would be just as zany, Phil just as taciturn, and Willie and Jase just as competitive if you stopped by their place for a mess of crawfish one day. And Kay's cookin'? Who wouldn't want a sample of that? Being real is not something we as a culture are very good at, hence the appeal when we find people comfortable with who they are.

Refreshingly blunt. In our PC world of hate crime laws and thought police, there's something cathartic about hearing the Roberstons push back on all the nonsense. I'm thinking of their willingness to go off the marked trails in Hawaii, their criticism of the mandatory HR training — when Willie and Si end up handcuffed together — or when Phil shoots a squirrel during the doggie portrait session and describes it as the best "organic" dog treat.
Guns. Don't underestimate the cultural push-back on this issue. As calls for gun control increase by our cultural elite, the Robertsons represent the majority of Americans who believe that gun control means shooting with two hands. Duck Dynasty portrays a safe haven where guns are the norm and no one is weird for thinking they might actually need to use them. My favorite Philogism on the topic? "Where I live, I am 911."
Capitalism. I wouldn't describe the Robertson's as flag-waving Americans, but their patriotism is ever-present and their love of country unmistakable — after faith and family. The thing that will ultimately earn them the most critics is that they are a shining example of American capitalism at work. It's only a matter of time before some prominent progressive describes them as having "behaved stupidly" — and the Robertsons take it as a compliment! The Robertsons are proof that anyone — yes, even "trashy rednecks" — can achieve financial success through hard work (OK, maybe that one is debatable), creativity, a superior product, and a little camo and sweet tea. Truth be told maybe some of us are watching because we have ATV envy.
Human nature. Let's face it, when most of us watch Duck Dynasty, we see them doing stuff we wish we had the guts to do — walk out of work to go fishing, duck tape younger brothers to warehouse poles, spend $2,000 at a kids pizza place all day — well, maybe that's just me. The point is ( I feel a Willie narration coming on) we all have stuff we'd like to say or do, but can't find the courage to say or do. For the Robertsons, courage doesn't seem to be the problem. Stupidity, maybe. But not the courage to take risks and see what happens. It's their family, faith, and community that provides the margin to make mistakes, forgive, and live to catch frogs another day — usually with only a bruised ego to show for it.
What do you think of this top ten list for why Duck Dynasty is popular? What would you add? Leave a comment below with your own reasons for liking — or not liking — the show.
Have you subscribed to our email updates? Click here to sign up to get free FaithWalkers posts in your inbox.