We all know that Thanksgiving is about much more than turkey and football. We know that the true purpose of Thanksgiving is just what the name suggests: giving thanks to God for His goodness to us.
But I think sometimes we like to think we're more grateful than we really are.
I mean, how many times have I thanked God for the food before the meal out of shear habit without an ounce of real gratitude? Please tell me I'm not the only one.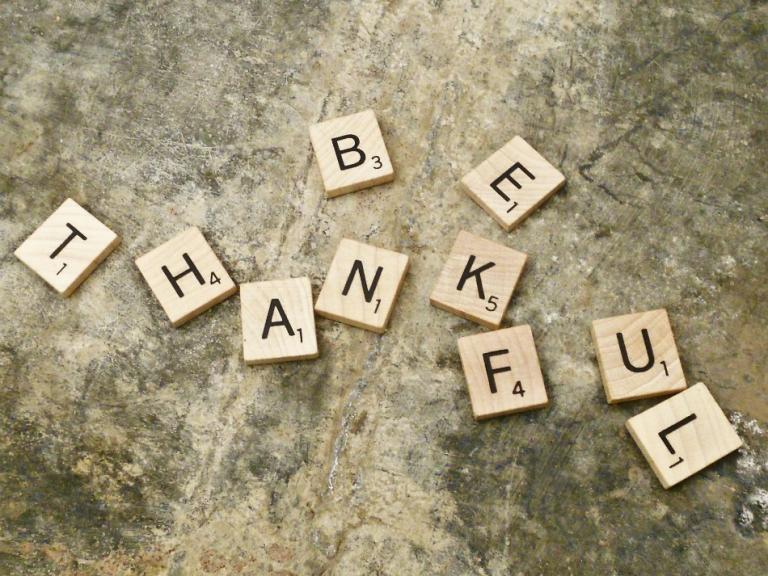 Sometimes we aren't truly grateful because we haven't put enough thought into it. But there's another obstacle to true thanksgiving that is often overlooked – thinking we deserve our blessings.
Why We Think We Deserve Good Things
We feel entitled. In a society where the government provides so much, it's easy to start feeling entitled. We have a right to as much food as we need, a house, and a check in the mail. And now, we even have a right to free contraception and a cell phone. With so many things just handed out, it can be easy to feel entitled instead of grateful.
We think we earned it. If you don't feel entitled there's a good chance you fall into this second trap: feeling like you've earned what you have. You've worked hard, and you deserve your nice house, your well-stocked wardrobe, or your newest gadget. And food – well that's just a given. "If any should not work, neither should he eat." Well, I've worked so I deserve to eat.
We think that God should give us what we desire. This hits home the most for me. When I count my blessings, my husband and new son Clayton are at the top of my list. I don't know what I'd do without them. But being glad I have them in my life is not the same thing as being truly grateful to God. Now I do know that God didn't have to give either of them to me, but there's a part of me that sometimes kind of thinks He did – or maybe at least thinks that I would be a little annoyed if He hadn't. Now I know this is not correct thinking, and when my head is on straight I realize that God's ways are better than mine and that if He withholds something He has a reason for it. But my point is that it's easy to say, "God, thank you for my family" while really meaning "Don't you dare ever let anything happen to them!" And when this happens, we've turned something good into an idol. And we're certainly not experiencing true thanksgiving.
How to be Truly Thankful
So what's the cure? Realizing that we truly do not deserve even the smallest blessing. We are sinners and deserve nothing more than to be in hell right now. Every small blessing truly is a gift. We are not entitled to it, but God gives it anyhow. We did not earn it, for even the ability to work has been given to us by God. And those people who are most precious to us are truly a blessing from God and every day is a gift. God did not have to give them to us, and if He takes them away, He is still good.
When we truly realize we deserve nothing, our hearts naturally overflow with true praise and thanksgiving for all His incredible goodness. He truly is amazing.
To God be the glory. Great things He has done.
What are you truly thankful for this year? Praise God with a comment below.
Photo by rustiqueart
Linda Kardamis is a teacher and writer who is passionate about helping parents and teachers impact the next generation. She is the author of Create Your Dream Classroom and blogs at Teach 4 the Heart. You can follow her on Twitter, Facebook, and Pinterest.