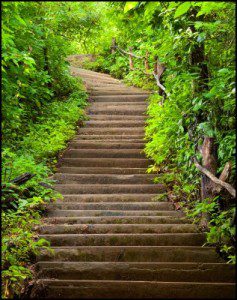 What is faith?
We Christians talk a lot about it, especially as it concerns our salvation. Truth be told, we like to leave it there at the point of conversion, confined in the Salvation Box we've created for it.
And yet we're called to walk by it, to live "from faith to faith", and to ensure our faith is evident to all.
But it would seem to me to be difficult at best, impossible at worst, to engage something we can't define. I would suggest one reason we Christian don't walk by faith all that well is that we don't know what faith is. That's not the only reason, of course, but it is a foundational one.
We could just quote Hebrews 11, as if that answered it:
Now faith is the substance of things hoped for, the evidence of things not seen.
Yet my experience in Christianity leads me to conclude that a lot of us quote Scripture as if that settled something — when we really don't have a clue what we just said.
Faith is something I've thought about quite a bit over the last few years of our own journey. It's the topic of the manuscript I'm working on now, in fact. So I have given the question a bit of attention.
 How I Define Faith
For what it's worth, here is my answer to the question of  "what is faith?":
Faith is doing what you believe to be true, often in spite of what you may see, sense, or feel.
I would repeat it to give you time to think about it, but we're working with text here — so just reread it yourself.
And then I'd truly like to know your thoughts about it. Does this definition capture what faith is? What would you add or subtract? Is there another definition you've found that betetr captures what the Bible says faith must be?
I'd welcome your input with a comment below.