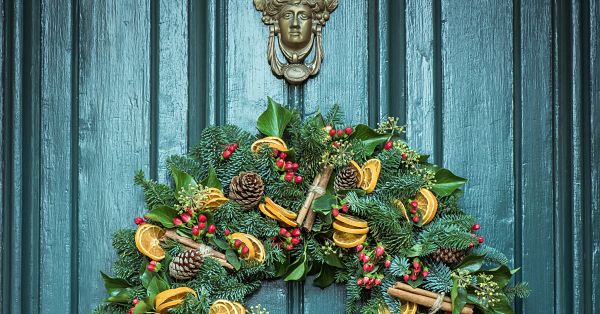 The Christmas Crunch, in case you're wondering, is that window of time when you can no longer procrastinate where Christmas preparations are concerned. This is also the time it's easy to become cumbered about much serving, as Martha was in Luke 10:40.

It's common to sort of pit Martha against Mary and to think Martha's zeal for service was the problem. But serving, or even a zeal for serving, is never the problem. The problem is being cumbered about much serving.
Can a Christian serve too much? Is it too much for us to purchase gifts, wrap said gifts, cook a feast for guests, or beautify a table where those guests will partake of a Christmas feast? Where is one to draw the line? How much shopping is too much? How beautiful and intricate, exactly, must the table be? How clean does the house need to be to host guests? Are dust bunnies ever allowed to Christmas dinner?
I think the line needs to be drawn at the moment we forget Christ. When serving gets in the way of our relationship with the One who came to serve and not be served, that is the moment we say time out. No more. Preparations can wait. Time to fellowship.
Martha's problem was not that she served too much. Her problem was that she let the serving interfere with what was the "necessary thing." The "good portion." That is, taking time to sit at Jesus' feet, so that she might rejuvenate and therefore be equipped to serve (among other reasons). Martha often gets a bad rap, and it's common to determine to be a Mary, not a Martha. But both serving and communing are necessary, required elements of the Christian faith. It's the balancing of those acts that requires forethought and determination.
Charles Spurgeon makes a good point in his Evening by Evening devotional. He says:
It is easier to serve than commune. Joshua never grew weary in fighting with the Amalekites; but Moses, on the top of the mountain in prayer, needed two helpers to sustain his hands. The more spiritual the exercise, the sooner we tire of it. The choicest fruits are hardest to grow. The most heavenly graces are the most difficult to cultivate. While we do not neglect external things which are good in themselves, we should also enjoy living, personal fellowship with Jesus.
So maintaining our faith should be prioritized above everything else. If the kids come to the party with a snotty nose, or if the outside Nativity scene never gets put up out front, but we are radiantly joyful because we've met with Jesus, we've chosen "the good portion." If the kids are spotless, the lights are hung, and everything about our exterior selves is perfect, but we are of sour disposition, we've chosen the worldly, fleshly thing.
Spurgeon is spot on when he says the necessary things are often the more difficult things to maintain. Martha looked busier and perhaps more spiritual, because she was up and at 'em, dashing to and fro in hustle-bustle service. But Mary was in fact the more spiritual in that moment, because … how often did Jesus in the flesh come knocking on the door? I'm not sure. But whatever the frequency, she knew it was a special occasion, and she chose the Good Portion. The more spiritual option. The more difficult but "necessary thing."
My guess is that once Jesus left, Mary was energized to help Martha, as Martha desired. She probably buzzed around the house for days on a Jesus high, washing this, scrubbing that, cooking everything from scratch (because … no McAnything), and mending every holey sock in sight. I'd like to think that if Jesus knocked on the door, I'd drop everything and immediately worship and commune until the very last second he chose to grace me with His presence. And yet, as I've looked at myself the last few days, I see someone who hasn't chosen enough of what's necessary. Much serving. Not enough communing. All of which adds up to a whole lot of bah humbugging.
Time to regroup.
Do I want to be a Mary or a Martha?
Both. I want to serve, but only once my cup is filled by choosing "the good portion, which will not be taken away."