Happy Easter! Today is a day of celebration and hope. I plan on making it one of peace, relaxation, and quiet celebration. I hope you are able to do the same.
Still, I want to send you a little something to reflect on. I promise I will be sending more in-depth writing throughout the Easter season, but for now it's a simple poem. May God bless you abundantly on this day.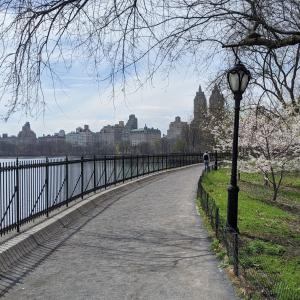 Poem for a Strange, Beautiful Easter
We turn the blinds to let the light in.
Bright sky, blue sky, clouds reflect the texture of the flowers below.
Blossoms dust the trees that line the empty streets.
The parks are bursting with life and color and song,
though few walk there.
Our apartment window looks into our neighbor's living room.
We never used to see them.
We don't know their names.
But now, every evening we greet each other.
We emerge like souls from the tomb
to shout in praise and thanksgiving
because someone loves us enough
to save us from death.
Perhaps now, while everyone is cheering –
while there is no one in the parks,
or the streets,
or the bars,
or the ice-cream speakeasy –
He is free to walk, barefoot and smiling,
without fear of being stricken down,
and visit the sick,
and hold their hands as he ushers them
gently
through the threshold.
Or perhaps He waits on the other side,
with outstretched hands,
while the sun shines.
while we are stuck inside.
Christ the Lord is risen today! Hallelujah! Hallelujah!