This weekend, my best friend, K, married the love of her life in a beautiful ceremony at the chapel of our Alma Mater. It was not exactly the wedding day she planned for or dreamed about. But it was filled with joy, love, and cute matching face masks. Because I was the Matron of Honor, I was fortunate enough to be able to attend the celebration. I want to dedicate this post to K and J and their beautiful new life together. This is my wedding toast for the bride and groom.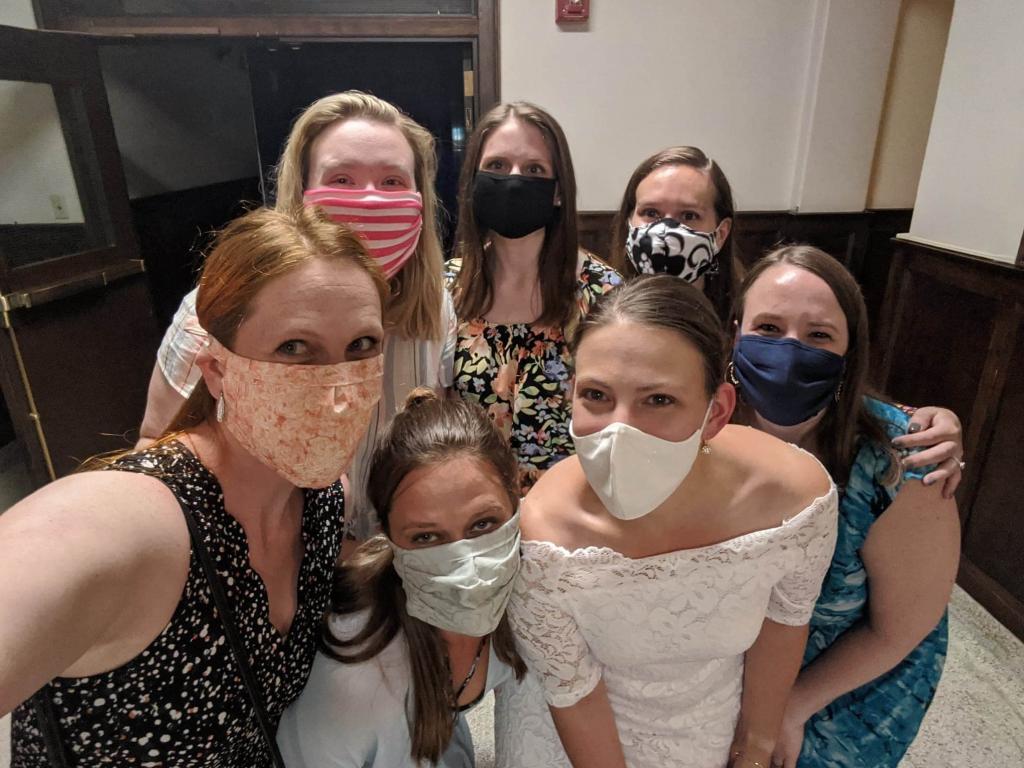 The Beginning
They say that the moment you meet the love of your life, time slows down. Everything goes silent and you're floating on a cloud of bliss. You just know. When I met my husband, it was absolutely nothing like that. I had no idea. But I did know the moment my best friend met her future husband. It was a few months before my own wedding, and K and I were discussing this guy she'd just met online who she'd had some really fun conversations with. To her surprise, I immediately told her to bring him as a plus one to my wedding. "Why not?" I said, "He's cute and he's in the area." What I didn't tell her, because I didn't want to scare her off, was I had a feeling this was The Guy, and I needed him in my pictures. I'll get back to how I knew in a minute, but first, let me tell you a little about my best friend.
My Best Friend
I met K at our First Year Retreat, but if I'm going to be honest, that weekend is a bit of a blur. I had just left behind a wonderful group of high school friends, broken up with my boyfriend, and was attending a school that, to be frank, wasn't my first choice. I had no idea what to expect from the next four years and I didn't know where I was doing to fit. But I do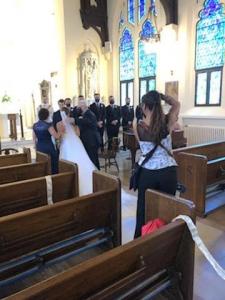 remember meeting you, K. I remember how warm and welcoming you were. How you made me feel at home. You were a safe harbor in a storm. And since that day, you always have been.
K, my friendship with you is one of the absolute highlights of my life. There is no sweeter soul, no more thoughtful person, no more generous heart that I have ever met. Who else would cook and prepare a surprise three course dinner for a friend's anniversary the week of her own wedding? Only you. You'd never guess from your gentle demeanor just how competitive you can be. Whether it's screaming your lungs out at Notre Dame Football games, destroying me in Mario Party, or spending endless hours rehearsing for ballroom competitions. You're a compassionate leader, whether that means urging your friends into the Salsa club in Cabo or guiding your students through a difficult time. You have a sense of fun and adventure, but you're content with what you have and where you are. I admire you so much.
The Groom
And now you've met the man of your dreams. J, I know that when you met this humble, demure woman you might not have counted on her crazy, loudmouthed college friends. But you've taken everything in stride, and it's been a blast getting to know you. I appreciate you including me in the plans for your engagement. It meant a lot to know that my friend's partner wanted me as part of your family of friends moving forward. You didn't have to do that, and I thank you.
But also, you're welcome. Because without my essential feedback, you would have been proposing in pitch darkness and there's no way K would have seen your face, much less the ring. Thanks to me, you proposed in a lovely candlelight circle, while I crouched in the bushes. No one suspected my presence aside from Digit the dog, who was convinced there was a very large squirrel nearby. The look on K's face when finally revealed myself will be a treasured memory for the rest of my life.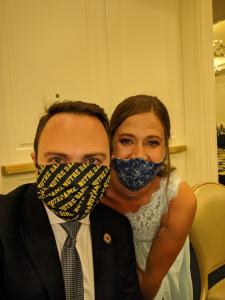 Foundation of Faith
Now I want to tell you now how I knew you were The One for K. J, there are two kinds of men on Catholic Match: men of extraordinary faith and weirdos. And while one could argue that we're all a little of both, it was clear right away that your faith had driven you to intentionally seek a partner with values that matched your own.
When I think back to how K and I met, on our First Year Retreat, it's obvious that, even though our personalities may on the surface seem very different, our friendship is unshakable because it's built on a foundation of faith. J, I knew you were the one for K because you shared her faith, you spoke honestly with her, and you made her laugh. Love is nothing like that crazy magical thing I described at the beginning of all this. Love is about sharing your values and sharing yourselves. I've witnessed the way you treat my friend, always building her up and always supporting her. I'm so grateful that God brought you into her life as well as into my life. You two are already an example of Christian love. It's a love that doesn't just enhance your lives, but the lives of everyone who comes into contact with you. It's a love that radiates out and multiplies joy. And my wish and, yes my expectation for you, is that you take that foundation and you nurture it throughout your lives. I feel so blessed to witness it and honored to stand by your side.
So if everyone could raise a glass to the bride and groom. To many years of love, faithfulness, and joy. I love you both. Cheers.