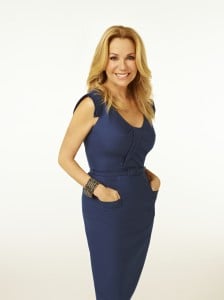 Kathie Lee Gifford is a bad follower of Jesus. Her humility and sincerity in describing her personal faith journey, one that began at age 12, is indicative of a woman who leads a rich, bold life of risks and rewards, successes and struggles, questions and … not answers, but something much more valuable: meaningful experiences. One who has tested traditional boundary lines and emerged more fluid yet more faithful for it. When it comes to right religion she is less about certainty, more about truth. When it comes to worldview she is less partisan, more shalom. When it comes to practice, she is less textbook (and less holy book), more viva la vida.
Which is why I consider her a Femmevangelical — a woman who doesn't submit, who challenges the status quo, who lives her compassionate faith and feminine worth out loud. It is also why she has dedicated the past 12 years of her busy career to bringing the life story of Aimee Semple McPherson, the first female evangelist in America, to the public in the most significant way since they sang of her decades ago in the classic song Hooray for Hollywood:
"Where anyone at all from Shirley Temple to Aimee Semple is equally understood," Gifford rings out in her crystal voice.
Almost a century after the height of the charismatic preacher's career, Sister Aimee's namesake and notorious reputation has traveled from Los Angeles to Broadway in Scandalous: The Life and Trials of Aimee Semple McPherson, which opened at the Neil Simon Theater on November 15. Gifford wrote the book and lyrics, clearly a labor of love for a woman who believes faith must be transparent, honest, and made relevant to today in ways that reveal people for what they are (worthy works in progress) and the gospel for what it was meant to be: good news that brings hope and transformation.
Gifford can bring the evangelista's well-documented triumphs, trials (literally), and tribulations to the stage with equal conviction. The show plays out Aimee's perceived hypocritical moments — from using money left for her by Klan members ("what you meant for evil, God uses for good") to multiple marriages, allegations of affairs and a post-surgical pain drug dependence that ultimately killed her — as equally relevant to her legacy as her godly deeds, which included feeding 1.5 million people during the Depression and giving inspirational new direction to the destitute, prostitutes, and otherwise disenfranchised souls of her day.
"There is no redemption without sin," Gifford quips. "What is the point of sugar-coating [a] woman's life? All of history is written one human story at a time, and we have to take life in context and understand choices" in order to learn from history and continue improving ourselves and the world.
"Billy Graham's life would not have made a musical," Gifford says decidedly, "but Aimee broke every rule, was very human, and dared to try things no woman in the 1920s had ever done before." One creative path she forged was illustrating stories of the Bible using actors and theatric flair, to bring the concepts to life. "It was like the The Real Housewives of the Old Testament," Gifford laughs.
Despite the schtick and entertainment angle, realness was still the thing.
"The message Aimee Semple McPherson brought to people was that if you have a pulse, you have a purpose, no matter your past or current situation," Gifford says. This non-judgmental message of love and human worth resonated across the country and the world. It also surprisingly took root where Aimee built her church, Angelus, in the land of dreams and heartbreak…Hollywood.
Ah, Hollywood. I suggest to the media mogul — in the form of a question about the value of resurrecting Aimee's ethos for our time — that today's popular "reality" culture finds some women pressured to emulate entrepreneurial entertainment personas that may lead us away from real purpose and the genuine, selfless qualities our faith calls us to develop. You know (I throw out the first association), like the Kardashians.
"I'm the godmother to the two youngest, and close with Kris Jenner," she says, "I actually told her the family should consider a reality show." Oops. But Gifford is here again open and transparent, always bringing it back to the real.
"I've [since told] Kris that I support [her], but can't watch it. I've been stunned with what the show is. I'm not judging the choices at all, but it's not [reflective of] the people I know." Gifford is adamant that judging others is never an option, especially as it relates to living out her faith and practicing feminism. Gifford says that feminism is "all about choice, even when we don't agree" about how women can be our best selves in a world that often tries to define us by our sexual allure, question our higher ambitions, and diminish our intellectual and leadership value.
Listening to her reflect, I hear Gifford practicing what her beloved Aimee preached. This was what the controversial minister fought for in her own time, in her own way, by becoming a respected and revered authority in a space dominated by men. Her life and choices were often twisted and misrepresented. Furthermore, she faithfully endured personal attacks for courageously inserting her unique talents and vision into what she knew to be an influential and important realm in all aspects of culture: religion and the church.
—–
"I think the church should die," declares Gifford, "of natural causes."
I couldn't have said it any better myself.
Her statement is elicited by my curiosity about the significance of a musical tale of a Christian evangelist in a time when Pew studies declare the younger generations "more spiritual than religious" and people are leaving churches, and organized religion in general, in droves. The heroine of Scandalous attracted tens of thousands to her revivals and sermons, but in 2012, for the first time in history, our country's representation consists of less than 50% self-identified Protestants.
To explain the demise of religion, Gifford quotes Jesus as recorded in John 15:
"No branch can bear fruit by itself; it must remain in the vine. Neither can you bear fruit unless you remain in me."
But the church — or some of the leaders and communities who represent it — seems to have broken from the central command of Jesus: to love God with all our hearts, and love our neighbor as ourselves. Its withering, she says, is caused by the judgment, hatred and bigotry that often stem from old and outdated religious interpretations and traditions.
"Jesus broke every rule of tradition and went straight for the human heart. His biggest battle was against 'religion'," Gifford says. "Jesus was radical in his willingness to speak to, touch, heal, and include women [in that society]. He lifted them up. And he was also always to be found hanging out with the people religious society judged and dismissed." Aimee Semple McPherson did the same, spending time with people in places where "most respectable women of the time would not be caught dead," Gifford attests, lest rumors and questions arise.
Raised in a very strict, rigid religious home, Aimee rebelled early against her mother's version of faithfulness. A genius who wrote 13 operas and played the piano and organ with hardly any formal training, Aimee was a staunch atheist until she was 17 years old. Then she met her first husband, Robert Semple, a charismatic Pentecostal preacher who made the word of God come alive and focused on the principle of love. Discovering a faith of freedom and vibrant expression changed her.
A relationship with God that provides spiritual freedom within a set of healthy guiding moral principles is also where Gifford tells me she bases her faith, not in the deadening confines of rigid religious doctrine. Throughout our conversation she refers to her relationship with a living God who transcends human-derived religion, and she acknowledges the dangers of the God of mis-translated and mis-interpreted scripture, trapped in the ink of ancient words and worldview. That faith is dead, she says.  The love of God is alive, and therefore remains relevant today.
—–
I ask Gifford about the relevance of Scandalous in the wake of a tense, polarized election cycle, and the effects of a war on women perceived to stem from conservative, evangelical religious ideals. There are evident parallels to Aimee Semple McPherson's daring interruption of the male stronghold on religious authority, to some of the professional repercussions for besting them in respect and effect, and the personal attacks and setbacks she endured. But Gifford, in true form, can only focus on the elevation of those who persevere against the odds, all in good faith: "I've had every opportunity that a woman of no means can have in our country."
"Of course I have experienced sexism [in my career]," she confirms. Her antidote was to keep moving forward unapologetically, just doing her thing, being true to herself, and staying authentic in the process.
So, why should likewise ambitious, smart, modern young women of faith go see a musical about a female evangelist who has until now been scarcely remembered? "Fear," Gifford replies thoughtfully. "There is fear in our culture." She reflects on why all of us are fearful for the future: times are hard across the board. And women in particular are also instilled with insecurity about physical perfection, staying desirable, aging, menopause, having it all and living up to impossible standards. All this pressure on top of real fears like breast cancer and supporting our families.
"Aimee was fearless. She never stopped living and doing long enough to [let] fear [set in]."
Was Aimee a feminist?
"Absolutely."
Are you?
"I don't call myself one. I AM one. I just live it."
So, what is the gospel according to Kathie Lee? Here is her impromptu sermon to seekers of all types, and fellow Femmevangelicals:
"Be encouraged. In all your ways acknowledge God, your counselor and dearest friend, and live not by [an enforced] bondage of God's commands, but live in the freedom of them. Focus on your purpose. God's picture is so much bigger. Do not let this world or any man define you, let God define you. Your body, your face, your situation will change…but God won't."
Coming from a woman in entertainment and media, at the white-hot center of the expectations and scrutiny of the public eye, both her faith and her advice are (forgive me) rather scandalous. That is what Jesus was in his time, and what Aimee was too in hers. Could the faith-revival phenomenon of an Aimee Semple McPherson happen again today? Who might ignite it and what would it look like?
"It would look like Oprah but steeped in the word of God!" Gifford muses. "Although God has a way of surpassing anything I could imagine. It would look like acceptance and abundance, not condemnation or self-righteousness. It would look like mercifulness, serving the poor. Heaven and hell are mentioned far, far less in the Bible than concern for the poor.
What would faith revived ultimately look like?
"It would look like love."
Tickets for Scandalous are available at scandalousonbroadway.com/tickets/how-to-buy/
Gifford's children are involved with the Angelus temple (what Gifford lovingly calls a "mosh pit for Jesus") today via the Dream Center in L.A., which serves the poor, hungry, those suffering from addictions, victims of sex trafficking and domestic violence, those living with AIDS, and gang-related issues, among other things.
Scandalous is currently partnering with New York Dream Center to help victims of Hurricane Sandy find a moment of relief and hope by giving them donated tickets to see the show. To donate, go to nydreamcenter.org.