I was in Vancouver at the Museum of Anthropology at the University of British Columbia when I entered a rotunda whose seats are scalloped like ripples in a deep lake. At the center of the ripples, where the stone would have dropped, is an enormous wood sculpture of a large bird on a half-open shell in which humans are waking. Some of the waking figures are eager to come out, while others are hesitant. The larger than life carving is on a stone pedestal, settled in a mass of fine pebbles which are patterned in ripples as well.
The sculpture was carved out of yellow cedar by the legendary Haida artist Bill Reid. It took him ten years to carve. This is all the more remarkable in that he chose to carve such a large statue because he had Parkinson's disease and could no longer rely on his steadiness to carve small.
The carving portrays the creation story of the Haida people of British Columbia, which centers on the image of Raven; a powerfully wise spirit and trickster who is often depicted atop a clamshell washed ashore in which the first humans are coming alive. Raven is pecking at the shell, coaxing the first humans to come out into the world. Raven's coaxing is wise because our human destiny requires that we come out of our shell to complete the world. But Raven's coaxing is of the trickster because once in the world, the journey is not easy and the struggle is ongoing, and knowing as much we might not want to be born. For each generation, the challenge is the same: How to leave our shell and how to help each other live once out of our shell?
I circled Raven several times and felt the presence of Spirit in my own small life, urging me to step out of my shell. I thought of my tribe and realized that the call of every community is to facilitate birth in every way possible and then to help each other on our way once we're here.
As if all this wasn't enough, I then learned that before the museum was built, a WWII fort stood in this very spot. And below Bill Reid's carving is a worn out gun turret. In fact, the architect planned to sit Raven over the turret as a symbol that how we come together can meet and repair how we come apart. Directly above Raven is a circular window in the ceiling, letting in the sky.
This huge, yellow-cedar statue, carved by a trembling man and placed between the remnants of war and the open sky, is a true totem: a living image to remind us that though we are born alone, we must live together. I invoke the totem of Raven: of Spirit coaxing us to crawl out of our shells, to stand on the earth, and to find our way together. History is a tribute to the many ways the human tribe has tried. Why gather and open all these stories, some triumphant, some failed? Because, can't you feel the sea calling? Can't you feel the land waiting? Can't you feel the press of our shell? Can't you feel the wise trickster Raven coaxing us to do more than watch? It is our turn.
A Question to Walk With: Our limited or expanded sense of community depends on whether we believe in a world that is not connected or in a world that is inextricably woven together. Bring four or five friends together. In conversation, have each of you tell a story of a time when you felt disconnected from the rest of life and of a time when you felt knit into the fabric of the Universe.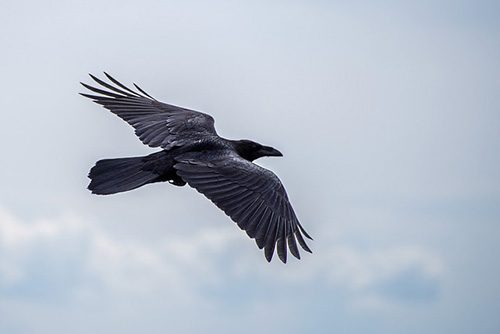 This excerpt is from my new book, More Together Than Alone: Discovering the Power and Spirit of Community in Our Lives and in the World, which will be published next month by Atria Books.
*photo credit: Pixaby