I have always loved the café life where I can sit by the endless river without leaving the river, where I can remove myself from the sweeping current but still drink from life. Known as "schools of wisdom," the first cafés were opened in Damascus, Mecca, and Istanbul in the 15th century, places to stop before making the trek across the continent.
The English word coffee comes from the Italian word caffè, which in turn comes from the Arabic term qahwa, which originally referred to a type of wine. But after wine was banned by Islam in the seventh century, the name referred to coffee.
I wonder: Who was the first to brew and open his door? Who was the first to stop and share his story? And what was that story? Was it one of wonder or betrayal? In 1640, a coffeehouse opened in Venice. Twelve years later, Pasqua Rosee opened the first café In London in St. Michael's Alley. By 1739, there were 551 coffeehouses in London. They were known as "penny universities." Patrons told stories, played checkers, sketched portraits, and read poetry. Weary travelers listened and laughed before picking up their burdens.
We've always wanted to stop and watch and stare at the herd passing by that we are a part of. And I have perched myself in cafes around the world: in San Francisco, Seattle, Victoria, Prague, London, Paris, New York City, Montreal, Chicago, Charleston, Boston, Boulder, Santa Fe, and countless others along the way.
But for the last year and a half, the pandemic has had us all sheltered-in-place. And today, having been vaccinated, I am sitting, once again, at a wobbly, round table in this small café in Kalamazoo, Michigan, sipping and watching again. Until sitting here, with a mocha steaming and my journal open, I didn't realize how much I missed this bubble of Eternity, this pocket of stillness in the turbulent stream, from which I can pull back enough to see life for myself, and yet, still reach out to you, when I need to.
A Question to Walk With: Describe your favorite café. How did you discover it? What makes it your favorite. Take a friend there and introduce them to this small oasis. 
This excerpt is from my book in progress, Great Conversations: Real and Imagined.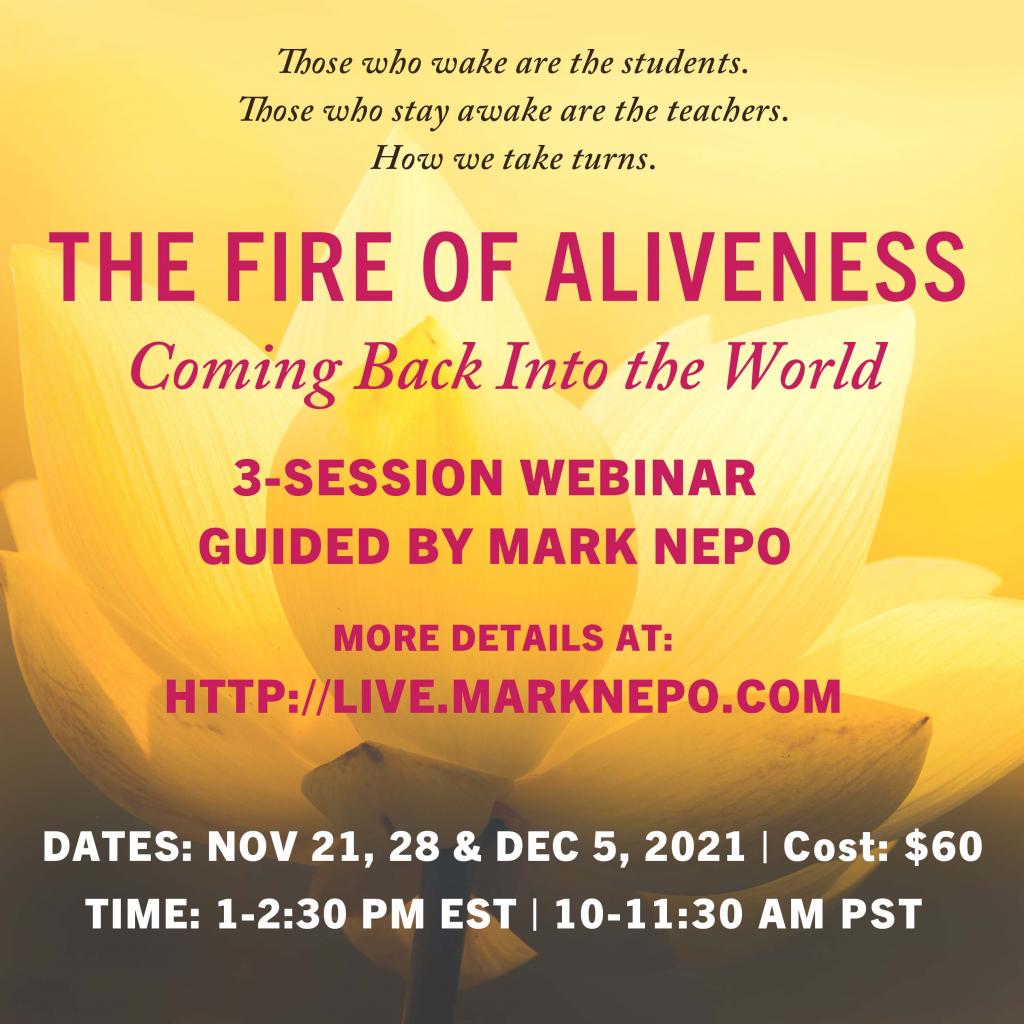 Given the trying times we are living through, we need to hold each other through our suffering,
and to ask for the story that has brought each of us to today, and to complete each other by
listening with an open heart. My new 3- session webinar, THE FIRE OF ALIVENESS:
COMING BACK INTO THE WORLD begins Nov 21 for 3 Sundays.
Learn more: Live.MarkNepo.com